ROME, Italy (CNN) -- Italian Prime Minister Silvio Berlusconi's wife is looking to end their marriage, Italian news agencies reported Sunday.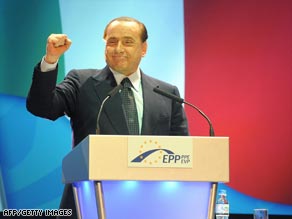 Silvio Berlusconi's office said the prime minister does not intend to make any further comment.
In a statement, the prime minister said only, "It is a personal matter that is painful for me and it has to do with my private life and it would be inappropriate to speak about this."
The newspaper La Repubblica reported that Veronica Lario, Berlusconi's second wife, is looking to end the couple's 19 years of marriage.
She made the decision Tuesday, following reports that her husband, 72, went to the birthday party in Naples of an 18-year-old girl, according to La Repubblica reporter Dario Cresto-Dina.
Cresto-Dina told CNN, "In Veronica's words, 'This time he went beyond the limit with this latest public humiliation. I want to close this chapter on this marriage.'"
The Italian newspaper La Stampa and news agency ANSA also reported that Lario wants to end the marriage.
Berlusconi and Lario have three children together, all born in the 1980s, before the couple was married in 1990.
Berlusconi famously met Lario after he saw her perform topless in a play in 1980. He has described the moment as "love at first sight."
His first child with Lario was born in 1984. Berlusconi and his first wife -- with whom he shares two children -- divorced in 1985.
E-mail to a friend

CNN's Richard Greene and Hada Messia contributed to this report.