(CNN) -- A European security organization expressed hope Tuesday that the recent release of three journalists in Azerbaijan signals positive change in the former Soviet republic.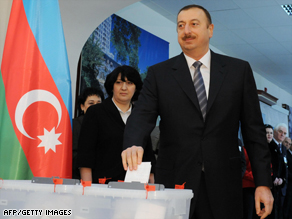 Reporters Without Borders accuses President Ilham Aliev of ruling Azerbaijan "with an iron hand."
Mirza Sakit Zahidov, a prominent satirical poet and a journalist with an opposition newspaper, was released April 9 after receiving a pardon from President Ilham Aliev, said press freedom group Reporters Without Borders.
The libel conviction of a newspaper editor, Asiv Marzili, was annulled the same day after Aliev spoke out against his arrest.
Ali Hasanov, the editor in chief of another newspaper, was released April 11, the Organization for Security and Cooperation in Europe said. The reason for his release was unclear.
The organization said its representative on media freedom, Miklos Haraszti, sent a letter to Aliev welcoming the releases and urging him to avoid imprisoning journalists in the future.
"Your positive intentions could only bear fruit if they are transformed into a legal reform," Haraszti wrote.
Don't Miss
Haraszti also expressed concern about two recently passed laws on the mass media and on television and radio broadcasting. He asked Aliev to ask Parliament to review the laws so they can be adapted to international standards.
"I hope that the recent positive trend of releasing journalists would soon affect also the fate of the remaining imprisoned journalists -- Eynulla Fatullayev, Ganimat Zahidov and Mushfiq Huseynov," Haraszti said.
After Zahidov's release, Reporters Without Borders also urged Azeri officials to release other journalists.
"It is a significant development for press freedom in Azerbaijan, a country ruled by President Aliev with an iron hand," the group said.
The latest press freedom index from Reporters Without Borders ranks Azerbaijan 150th out of 173 countries. Aliev also is on the group's list of "Predators of Press Freedom."
E-mail to a friend