MADRID, Spain (CNN) -- A suspected leader of the Basque separatist group ETA and two alleged accomplices were arrested Saturday in a city near the southern coast of France, a CNN partner station reported, citing police sources.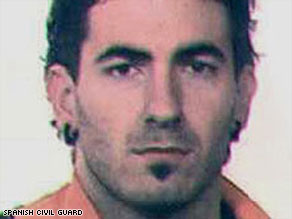 Jurdan Martitegui Lizaso is the fifth ETA suspect arrested in France in the past two weeks.
The key suspect arrested in the joint French-Spanish operation in Perpignan was identified as Jurdan Martitegui Lizaso, CNN+ said. Martitegui, who is in his late 20s, is wanted for various ETA attacks in Spain.
State security forces believe Martitegui was ETA's "No.1," CNN+ said.
Spain's ruling Socialist Party issued a statement praising police for the arrest of Martitegui, whom the party described as the "suspected military chief of ETA."
Martitegui is the fifth ETA suspect arrested in France -- where the group's rear guard traditionally operates in mounting attacks against neighboring Spain -- in the past two weeks.
ETA is blamed for more than 800 deaths in its long fight for Basque independence and is listed as a terrorist group by the European Union and the United States.
In November 2008 during an anti-terrorism raid in France, authorities captured the man then considered to be the chief of the Basque separatist group. Authorities said the suspect, Mikel Garikoitz Aspiazu, 35, alias "Txeroki," was in charge of both ETA's military and political wings.
The next month, French police arrested Garikoitz's alleged replacement, Aitzol Iriondo Yarza, 30, the new suspected head of the ETA commandos.
Just hours before Saturday's arrests, Spanish Interior Minister Alfredo Perez Rubalcaba told Spain's SER radio that ETA's only option is to end its violence.
"The only debate is if they leave it, well good," he said. "And if not, the state will make them leave it. But there is no room for anything else."
He added that peace talks with ETA were no longer an option for the government. Talks were held under three different Spanish prime ministers since the late 1980s and ultimately failed.
Police in Spain and France have arrested 365 ETA suspects in the past two years, notably three suspected ETA chiefs in 2008, Spanish Prime Minister Jose Luis Rodriguez Zapatero said in December.
But top Spanish officials have warned repeatedly that ETA, while weakened, is not yet finished.
About 600 ETA convicts or suspects are incarcerated in Spain and 150 are in French jails, authorities in both countries have told CNN.
E-mail to a friend

CNN Madrid Bureau Chief Al Goodman contributed to this report.