By Ivan Watson and Yesim Comert





ISTANBUL, Turkey (CNN) -- Turkish police have arrested more then 40 people in a large-scale operation across 12 provinces in southeastern Turkey. The police are targeting the Kurdistan Workers Party, or PKK, according to the official Anatolian news agency.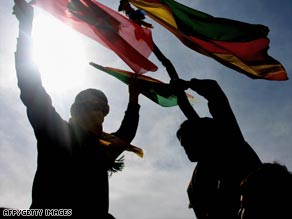 Turkish police are targeting Kurdish political leaders, according to the Anatolian news agency
Three leaders of the DTP, an opposition Kurdish nationalist political party, were arrested. Police also raided the offices of Gun TV in the southeastern city of Diyarbakir. Gun TV recently had to suspend its operations for 12 days for broadcasting in Kurdish.
A DTP spokesman said the arrests were revenge against his party, after the DTP's strong showing against the ruling party of Prime Minister Recep Tayyip Erdogan in municipal elections on March 29.
"We knew that there was intolerance in general after DTP's success in local elections," said Halil Aksoy, chairman of DTP's Istanbul branch. "This has been expressed with violence and detentions. We expected this, but we did not expect that our executives would be targeted directly."
During the PKK's quarter-century long guerilla war against the Turkish state, more then 30,000 people have been killed, mostly ethnic Kurds. In a clash in southeastern Turkey on Saturday, two soldiers and seven PKK fighters were killed, the Turkish military announced.
Tuesday's police operation comes a day after Turkish security forces launched a series of raids on the homes and offices of university professors and other academics in western Turkey.
More then 18 people were arrested, including five current and retired university rectors, along with a prominent economist and an executive board member from a non-governmental organization that sponsors scholarships for Turkish girls.
Monday's operation targeted suspects in an alleged ultra-nationalist plot to overthrow the government, the Anatolian Agency reported. Turkish authorities have not pressed formal charges against the detainees. Critics accuse Erdogan's government of using the arrests to silence opponents from Turkey's secularist political camp.
"What's missing here is due process," said Ali Carkoglu, a political science professor at Istanbul's Sabanci University. "There is rounding up of different people without any concrete accusations."
E-mail to a friend