MADRID, Spain (CNN) -- Prosecutors at a Spanish court are expected to decide soon if a human rights investigation of former Bush administration officials in connection with Guantanamo Bay will go forward, a prosecution source told CNN Tuesday.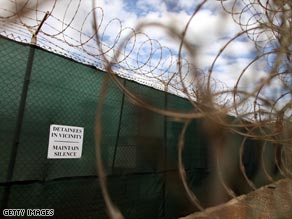 Garzon says the case can be brought under Spanish law because several Spaniards were held at Guantanamo.
Attorney General Alberto R. Gonzales and five other ex-Bush administration officials are accused in the human rights group complaint of allegedly sanctioning torture at the Guantanamo Bay detention center.
Spanish judge Baltasar Garzon accepted a complaint last month from lawyer Gonzalo Boye, representing the human rights group.
That complaint alleges the six former officials were the legal architects of a system that allowed torture of prisoners at Guantanamo, in violation of international law.
Garzon accepted the complaint under Spanish law because there were several Spaniards at Guantanamo who allegedly suffered torture.
But Garzon sent the matter on to prosecutors at Spain's anti-terrorism National Court, requesting their opinion on whether a crime had been committed.
A prosecution source at the court, speaking on condition of anonymity, told CNN on Tuesday that an opinion from prosecutors offfice was not expected "for several days."
Boye, a Chilean national who lives and practices law in Spain, said he expected the prosecutors to come out in favor of continuing the case, but the prosecution source would not comment on that.
Don't Miss
The 98-page complaint, filed in March 2008 by Boye on behalf of the Association for the Rights of Prisoners, names Gonzales, who was Bush's legal counsel when the Guantanamo Bay detention center in Cuba was established as part of the adminstration's "war on terror." Gonzales later became attorney general.
The complaint also names five other top Bush administration officials: former assistant attorney general Jay Bybee; former deputy assistant attorney general John Yoo; former Defense Department general counsel William J. Haynes II, former Undersecretary of Defense Douglas J. Feith and Vice President Dick Cheney's former legal counsel, David S. Addington.
Garzon is Spain's best-known investigating magistrate who issued the precedent-setting arrest warrant for former Chilean dictator Augusto Pinochet in 1998 while he was in a London hospital.
Garzon has investigated human rights abuses of former military governments in Chile and Argentina, Islamic terrorists operating in Spain, the armed Basque separatist group ETA, as well as major drug traffickers.
E-mail to a friend