By Ivan Watson





ISTANBUL, Turkey (CNN) -- Police raided the homes and offices of at least a half dozen prominent Turkish academics across Turkey Monday against what was reported to be a plot to overthrow the government.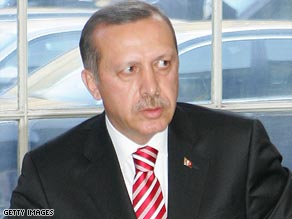 Critics claim the probe is a witch-hunt of opponents of Prime Minister Recep Tayyip Erdogan.
At least four current and retired university rectors were detained, along with one of the directors of a non-governmental organization that provides scholarships to tens of thousands of young Turkish women.
Turkey's official Anatolian Agency reported the raids were part of an ongoing and sprawling investigation into an alleged ultranationalist plot to overthrow the government, known as "Ergenekon."
Among the suspects arrested in the Turkish capital was the operator of an opposition television station, who is also the rector of a university, the official Anatolian news agency reported Monday.
Turkish TV showed police leading away Mehmet Haberal, owner of Kanal B and Baskent University. His supporters stood by, watching and clapping in a traditional Turkish show of support.
Police also spent hours searching the Istanbul home of Turkan Saylan, the director of the Organization to Support Contemporary Life, which sponsors education for girls in Turkey.
Saylan, who is currently battling cancer, told journalists she is a critic of the government of Prime Minister Recep Tayyip Erdogan, but said that does not make her a coup plotter.
"We say 'neither sharia nor coup,'" Saylan explained, looking thin and weak and wearing a bandana to cover her head. "There may be people who have such a dream. However, we are not among those people"
More then 130 suspects, including retired army generals, police officers, businessmen, journalists and academics, have been implicated in the alleged "Ergenekon" gang. Suspects have been accused of carrying out assassinations and bombings in an effort to destabilize society and undermine Turkey's elected government.
Prosecutors have published two enormous indictments throughout the two-year investigation, which was launched in 2007. It began with a police raid on a house in Istanbul owned by a former police chief which resulted in the discovery of a stash of explosives and grenades.
Critics claim the probe has turned into a political witch-hunt of secularist opponents of Prime Minister Recep Tayyip Erdogan.
Erdogan's ruling Justice and Development Party, or AKP, has its roots in political Islam. Since sweeping to victory in parliamentary elections in 2003, the AKP government has fought a power struggle against state institutions long dominated by Turkey's traditional secular elite.
In 2008, Erdogan's government passed a constitutional amendment to lift the ban on headscarves worn by female students in universities. That amendment was rejected by a group of rectors of Turkish universities, which have long been seen as a bastion of Turkey's strict secular system.
Several months later, the AKP narrowly escaped being banned, when ten out of 11 judges on Turkey's Constitutional ruled that the party had become a "focal point of anti-secular activity."
Turkish government officials insist the evidence for the Ergenekon case is entirely in the hands of a team of state prosecutors.
"The investigation goes on deeply and intensively," Deputy Prime Minister Hayati Yazici said Monday. "It is not possible for us to say...what is being done since we don't have the evidence."
E-mail to a friend

All About Turkey • Recep Tayyip Erdogan