From Diana Magnay
CNN





L'AQUILA, Italy (CNN) -- Mass in a tent village. Handouts of donated chocolate Easter eggs, and a holiday lunch consisting of aid food.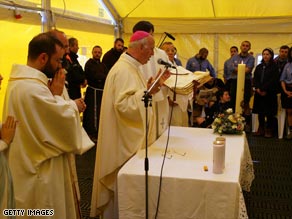 Archbishop Giuseppe Molinari celebrates Easter Mass in a tent in the quake-hit city of L'Aquila.
It's not the way people in L'Aquila expected to celebrate their Easter holiday. But in the wake of a deadly earthquake that killed nearly 300 people and left some 45,000 homeless, it's a poignant reality they must live with.
"It is hard for us to believe right now," the Archbishop of L'Aquila told those assembled for an emotional Easter Mass. "But we must pray, we must pray that God gives us hope."
For many victims, who have lost their homes and loved ones, hope is hard to come by.
"I'm a believer. I go to church, I feel these religious holidays, but this year I don't really feel it," Chiara di Crosta told CNN. "Some of my friends died under the rubble. This isn't really a meaningful Easter for me."
For many quake victims, life changed irrevocably on Monday, when a 6.3 magnitude quake struck L'Aquila, northeast of Rome. The temblor reduced homes to rubble and cost nearly 300 people their lives.
Some 25,000 people remained in tents Easter Sunday. Others were housed in hotels away from the hardest-hit region.
Italian Prime Minister Silvio Berlusconi was to attend one of the Easter Masses in L'Aquila, at the police academy, where Friday's funeral Mass was held. Afterward, he was to hand out candy to children.
Don't Miss
But no matter how hard officials or aid workers try to inject some Easter spirit into the day, it remains bitter for many.
Di Crosta said she believes it was Shuala, her German shepherd, who saved her family's life. In the moments preceding the quake, Shuala barked and yelped, striking her paw repeatedly against a glass door on a balcony.
"She was very agitated," di Crosta said. "She had been for a long time ... Dogs can alert you at times like this ... So I had time to prepare."
The family dressed and prepared a bag for their baby, Laura, before the quake struck.
When it did, "The door wouldn't open. I couldn't make it open," said Laura's father, Vincenzo Breglia. "And the more I pushed the more tightly I held the baby so I was almost suffocating her and everything was falling around us."
But they had no time to get Shuala, who was on the balcony. While they escaped with their lives, they couldn't find the dog for three days.
"I cried all night because I couldn't get back to save her," di Crosta said. "The tremors continued and I couldn't do anything."
But when the family went back to the ruins of their home, they found Shuala at last -- alive and well, and waiting for them by the rubble. Now, the family is trying to celebrate an Easter they hope baby Laura won't remember.

The quake's death toll is now 294, according to Luca Cari, a spokesman for L'Aquila Fire Brigade. The 294th death was that of a man who was rescued earlier in the week, but died Sunday at a hospital.
The search-and-rescue operation is over, officials said, because all those on a list of missing persons have been accounted for.
E-mail to a friend

All About Silvio Berlusconi • Italy