L'AQUILA, Italy (CNN) -- Authorities on Saturday ended a rescue operation at a site thought to hold a survivor from this week's earthquake, the L'Aquila fire brigade told CNN.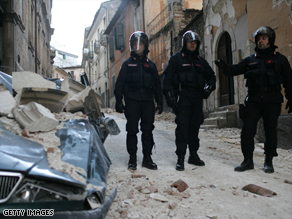 Italian police patrol the ruined streets of L'Aquila to prevent possible looting.
No survivors or bodies were found.
Rescuers late Friday afternoon thought they heard breathing from beneath the rubble, so they brought in search dogs. More than half of the dogs got what their handlers said was a very strong human scent.
However, after digging in the spot, rescuers found a wet mattress, they said. After that was removed, the dogs stopped barking and signaling.
Teams were searching the site where a building was flattened during Monday's 6.3-magnitude quake.
Eight bodies and one survivor had been pulled from the same pile of debris, close to the town's historic center.
The earthquake struck while many slept and killed 291 people in L'Aquila, at the epicenter.

Italians held a state funeral Friday for all the victims outside a hangar in Coppito, a town adjacent to L'Aquila.
The 6.3-magnitude quake also left about 30,000 people without homes. Almost 20,000 are braving chilly nights in tents while about 11,000 others are staying in hotels, said Agostino Miozzo, a spokesman for the Italian Civil Protection Agency.
E-mail to a friend

-- CNN's Diana Magnay contributed to this report.
All About Silvio Berlusconi • Italy