From Paula Newton
CNN





L'AQUILA, Italy (CNN) -- Rescue workers believe they may have located an earthquake survivor on Friday, four days after the quake struck the region and killed 287 people, representatives of the L'Aquila fire department said Friday.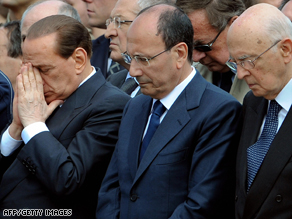 Berlusconi (left) alongside Senate leader Renato Schifani and Italian President Giorgio Napolitano at Friday's funeral.
They are trying to extract the person -- who has shown signs of breathing -- from underneath the rubble, and that will take some time, they said.
Rescuers initially used their hands and shovels at the site and then brought in digging machines.
Several of the 10 search dogs on the site have found a very strong human scent, one of the police dog handlers told CNN.
She cautioned that the dogs could have found blood and not necessarily a survivor but added the scent is significant and the search will continue through the night.

Watch the search for a possible survivor »
It has been two days since anyone has been pulled alive from the destruction.
Italians held a state funeral Friday for all the victims outside a hangar in Coppito, a town adjacent to the earthquake's epicenter of L'Aquila.
Don't Miss
The 6.3-magnitude quake Monday morning left about 30,000 people without homes. Almost 20,000 are braving chilly nights in tents while about 11,000 others are staying in hotels, said Agostino Miozzo, a spokesman for the Italian Civil Protection Agency.
Meanwhile, Italian Prime Minister Silvio Berlusconi has said he will open his doors to the thousands of people displaced by the quake.
"Many people have offered their own houses to help refugees from the earthquake, and I will also do what I can by offering my houses," he told journalists Friday, according to Italy's ANSA news agency.
The prime minister's press office in Rome confirmed that he made the offer.

Berlusconi, a media tycoon, is worth nearly $7 billion, according to Forbes Magazine. He has many homes across Italy including a luxury villa on the Sardinian coast and a mansion outside Milan, according to ANSA.
The premier did not specify which homes he would make available, the news agency reported.
E-mail to a friend

All About Silvio Berlusconi • Italy