L'AQUILA, Italy (CNN) -- Thursday brought no respite from grief in central Italy, where the toll from Monday morning's earthquake continued to rise and search teams said they did not expect to find any more victims alive.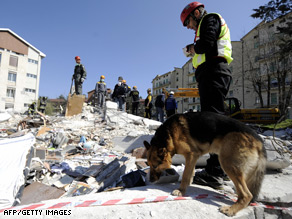 A rescuer and his dog look for survivors in L'Aquila.
The death toll is 278, with four bodies still unidentified, said Agostino Miozzo, a spokesman for the Italian Civil Protection Agency. He said emergency crews think they have found everyone buried by the rubble.
Twenty of the dead are children under the age of 16, Miozzo said.
Interior Minister Roberto Maroni said the search for survivors would be extended by two days to Sunday, though hopes are fading fast.
Rescue worker Luca Signorile told Agence France-Presse: "We'll keep digging until we've found everyone -- dead or alive. We're going to do our job."
The job of rescuers was being made more difficult by tremors that continue to shake the region. A magnitude-4.5 earthquake on Thursday struck the coastal city of Pescara, about 65 kilometers (40 miles) east of L'Aquila, where most of the death and destruction took place earlier in the week.
A moderate 5.6-magnitude tremor struck the area Tuesday, the U.S. Geological Survey said.
Almost 20,000 people are being forced to brave the cold nights in tents after Monday's quake destroyed their homes. Miozzo said 10,000 to 11,000 others are staying in hotels.
L'Aquila's bishop plans to hold a mass funeral for the victims at 11 a.m. (5 a.m. ET) Friday. Miozzo said he couldn't say how many bodies would be buried, but it would be "a lot."
There were no immediate reports of damage or injuries from the latest aftershocks, which have heightened anxiety in the area. Read blog describing the aftershocks
"The mood is a little bit afraid," Marco Volponi, of the Civil Protection agency, said.
Meanwhile, Italian Prime Minister Silvio Berlusconi pledged Wednesday that the government would quickly help to rebuild homes destroyed by the earthquake in L'Aquila.
Nine bodies remain unidentified, he told a news conference. iReport.com: Waiting to hear from friends in Italy
Government teams have surveyed 20,000 homes -- house by house -- within 600 square kilometers (232 square miles), and were issuing certificates of habitability for any structure that escaped major damage, Berlusconi told CNN.
About 28,000 Italians were left homeless when the quake struck before dawn on Monday. Most of those people are living in tents; the rest are staying in hotels.
Don't Miss
Berlusconi meanwhile came under fire for comparing the ordeal of survivors staying in tents to a camping weekend.

Watch President Berlusconi talk about the disaster »

(Italian version) »
During a visit to a tent village on Tuesday, he told German television "they should see it like a weekend of camping."
"He is a completely insensitive man who thinks wisecracks can solve every problem," Rina Gagliardi, a former senator of the Refoundation Communist Party, told Agence France-Presse.
"He can never be negative, but an earthquake disorients him because he can't blame the left for causing it, so his response is extreme optimism," she said.
Despite the criticism, Berlusconi has won praise from the Italian media for his tireless visits to the region.
Recovering from losses and reconstructing the city of L'Aquila, the epicenter of the 6.3-magnitude quake, will take several years, said Agostino Miozzo of the Italian Civil Protection Agency. L'Aquila is an historic city about 120 km (75 miles) northeast of Rome.

Watch the latest from the recovery operation »
Miozzo said pre-fabricated villages would be set up until permanent homes could be built.
According to Berlusconi: "We will build a new town near the capital, L'Aquila, and keep the possibility open for many families to stay, for the time being, in hotels along the coast, less than a hour away, in pleasant and comfortable circumstances."

Berlusconi said the plan for the new town would involve low-rate mortgages.
"This is not an alternative to the reconstruction," he said Wednesday. "These are additional houses."
E-mail to a friend

All About Italy • U.S. Geological Survey