LONDON, England (CNN) -- Video appearing to show police hitting a man who later died in protests over last week's G-20 summit in London sparked anger Wednesday and calls for an immediate criminal investigation.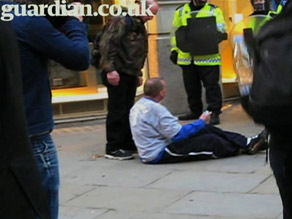 A video posted by the Guardian shows police shoving Ian Tomlinson to the ground. He later died of a heart attack.
One opposition politician described the "unprovoked attack" on Ian Tomlinson, a newspaper vendor who was not taking part in the protest, as "sickening" and urged the officer to come forward.
In video footage obtained by The Guardian newspaper, Tomlinson is shown walking in front of police with his hands in his pockets when an officer hits him on the leg with a baton and pushes him over. The 47-year-old falls heavily to the floor.
Tomlinson gestures to the officers before being helped to his feet by passers-by. Moments later he collapsed and died of a heart attack.
The footage was shot, according to the Guardian, by a U.S. fund manager who was in London on business, during clashes outside the Bank of England in London's financial district last Wednesday evening.

Watch video showing police allegedly shoving man »
Tomlinson had not taken part in the protests, but was walking home from work, the paper said.
The Independent Police Commission is investigating any contact Tomlinson had with police before his death, but the man's son and opposition politicians have demanded answers.
"This video clearly shows an unprovoked attack by a police officer on a passer-by. It is sickening," David Howarth, justice spokesman for the Liberal Democrats, said in a statement.
"There must be a full-scale criminal investigation," he said. "The officer concerned and the other officers shown in the video must immediately come forward."
Paul Stephenson, commissioner for London's Metropolitan Police, which oversaw the G-20 security operations, said the images in the video "raise obvious concerns" and that it is "absolutely right and proper that there is a full investigation into this matter."
Home Secretary Jacqui Smith said she was pleased the matter was being investigated.
"I am glad that the Independent Police Complaints Commission has called for further evidence for their investigation," she said in a statement.
"If they identify a need for a criminal investigation, that also needs to be pursued."
Don't Miss
After watching the footage, Tomlinson's son, Paul King, 26, said the video showed police did have contact with with his father, who he said was simply trying to get home through the crowds.
But he told the Guardian: "Whether that was a cause to his death we are not to know.
"Ian clearly had his arms in his pockets and back towards the police. There is no need for them to step in towards him. It clearly shows that Ian did have an altercation. Now we can say, yes he did. Up until now it has been 'if.' But now we've seen it, we want answers."
The family want investigators to interview the officer who pushed Tomlinson to the ground and other officers nearby.
A spokeswoman for the Independent Police Complaints Commission said she was certain the man in the video was Tomlinson.

"However, that is not the question," the spokeswoman said. "The question now is that we see someone getting beaten up by police, and we have to investigate it."
The commission said it was seeking to obtain the video and "will be assessing this along with the other statements and photographs that have already been submitted."
E-mail to a friend

All About G20 Industrial Nations • London