L'AQUILA, Italy (CNN) -- A woman was pulled alive from the rubble of the Italian earthquake late Tuesday -- 42 hours after it smashed central Italy, according to CNN eyewitness accounts and Italian emergency medical staff.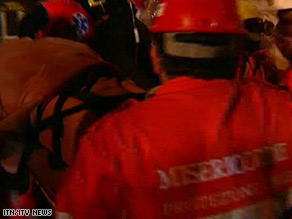 Rescuers pull a woman out of the rubble alive 42 hours after the Italian earthquake hit.
The woman was stabilized and is being transferred to a hospital in Rome, according to Doctor Emanuela Troiani Sevi who is working in a field hospital in L'Aquila setup to care for those injured by the earthquake.
Two other survivors were also pulled out earlier, Sevi said, but it was not immediately clear when they were rescued.
Rescuers spent the day searching through rubble and debris for survivors and bodies.
By Tuesday afternoon, the death toll had climbed to 235, according to the Italian Civil Protection Agency.
Italian Prime Minister Silvio Berlusconi said earlier that people were still missing and 100 out of the about 1,000 people injured were in serious condition.
He visited L'Aquila, a medieval city about 120 km (75 miles) northeast of Rome that was near the epicenter, Tuesday as aftershocks heightened anxiety.
"The mood is a little bit afraid," Marco Volponi, of Italy's Civil Protection agency, said.
He was working in a tent camp, housing people whose homes are inhabitable. "I hope they will not be here longer than two weeks," Volponi said.

Watch how survivors are being helped »
A moderate aftershock registering a 5.6 magnitude shook the area Tuesday evening, the U.S. Geological Survey said.
Rescue work stopped briefly earlier in the day when another aftershock rattled the region.
A girl, waiting for news of her brother, wept near the rubble of a student dormitory in L'Aquila as she clutched a cell phone to her face.
An older woman, her face taut with emotion, wrapped her arms around the girl, and the pair stood in a street choked with emergency vehicles.

Watch rescuers trying to find survivors »
Don't Miss
"It's a horrible situation here with the parents of the students that are buried under the rubble," L'Aquila Mayor Massimo Cialente said.
About 4,000 people were working on the rescue effort Tuesday. Civil defense officials said they are prepared to house up to 30,000 people, but many of those displaced have gone to hotels.
The injured arrived in droves at makeshift hospitals, after the main hospital was deemed too structurally unsound. Other patients were also moved. iReport.com: 'The house shook for such a long time'
Berlusconi said: "The government has a task to be close to all those citizens who have found themselves in a very difficult situation due to the earthquake, the disaster, and of course also due to the financial crisis," Berlusconi told a news conference.
"It will be very important, and we will collect together all the necessary money and funds as soon as possible to rebuild, once we overcome any bureaucratic paperwork and issues," Berlusconi said.
"Building will be carried out as soon as possible -- fast."

See images of the destruction »
He added: "I can say there's hardly a building which was left without some sign of what has happened in the historical center of L'Aquila. All the public buildings have been affected."
The magnitude 6.3 quake that hit before dawn Monday is the deadliest to strike Italy in decades, and the first major one to strike the country in almost seven years.
It left stone buildings in heaps, with rubble spilling over parked cars and into alleyways.
Berlusconi declared a state of emergency and canceled a trip to Russia to oversee the rescue efforts.
The earthquake followed less than six hours after another quake hit the northern part of the country, the U.S. Geological Survey reported.
Seismic activity is not uncommon in Italy, which is sandwiched between the European and African tectonic plates, and USGS geophysicist Amy Vaughan called the region geographically "complex."
In 1997, an earthquake in the Umbria region, killed 10 people, left tens of thousands homeless and seriously damaged monuments and artwork, including the town of Assisi's famed Basilica of St. Francis.

About 17 years before the Umbria quake, a 6.5-magnitude temblor in southern Italy killed 3,000 people, according to the USGS.
Monday's earthquake was about 10 km (6.2 miles) deep, the USGS said. About 10:20 p.m. (4:20 p.m. ET) Sunday, a 4.6-magnitude earthquake hit northern Italy, about 55 km (35 miles) southeast of Bologna, the agency said. That earthquake's depth was 6.4 km (4 miles).
E-mail to a friend

CNN's Paula Newton, Hada Messia and Diana Magnay contributed to this report.
All About Italy • U.S. Geological Survey