(CNN) -- Survivors of Monday's deadly earthquake in Italy's Abruzzo region face the prospect of rebuilding their shattered lives after thousands of homes were demolished.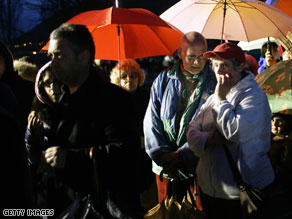 People cue in line to receive aid in L'Aqulia following Monday's earthquake.
Italian Prime Minister Silvio Berlusconi on Tuesday pledged to build a new town to house the thousands of people left homeless in the medieval city of L'Aquila, about 120 km (75 miles) northeast of Rome but for many the problems lie in the more immediate future.
Angela Camon was one of the lucky ones who survived but on Tuesday was sitting in a tent after escaping from her collapsed apartment building.
"I can't even bear to think of the future, because I have no idea what we will do," 37-year old Camon told Reuters.com.
She recounted tearfully how she and her husband jumped out of the window after her apartment started to collapse.
"Yesterday was full of panic. Now I just feel a deep sadness."
As rescuers battled to reach the remaining suvivors, food and water were being handed out to long lines of homeless survivors as mothers tried to comfort babies.

Watch more about the search for survivors »
Teenagers tried to reach friends on their mobile phones, having been able to charge their batteries at a rescue point.
"We were lucky enough to sleep in one of the unheated tents last night where they provided beds and blankets," 56-year-old Fernanda told Agence France-Presse.
"Others were not so lucky and slept in their cars," she said, sitting on a bed with her eight- and 10-year-old granddaughters by her side.
Seven-year-old Francesco and his six-year old brother Silvio watched rescue workers setting up more tents. "I miss school because here I can't be with my friends," Francesco said.
Don't Miss
Standing in the line for hot milk and tea, 70-year-old Anna Bruno wondered if she could ever return to the damaged second-floor flat in which she had lived for 31 years.
"If I think of going back to the house, all I see in my mind are those giant cracks on the wall. It's just what you think of repeatedly in your head," she told Reuters.com. "But I'm from here, I have to stay here, where else will I go?"

The owners of a Chinese restaurant in the town were closing their shutters, possibly for good. "There's no water and no electricity," one of the proprietors told AFP. "Who knows when we'll be able to reopen."
About 4,000 people were working on the rescue effort Tuesday. Civil defense officials said they are prepared to house up to 30,000 people, but many of those displaced have gone to hotels. iReport.com: 'The house shook for such a long time'
E-mail to a friend

All About Italy • U.S. Geological Survey