(CNN) -- Two people were killed and two were severely wounded Tuesday in a shooting at a courthouse in Landshut, Germany, police said.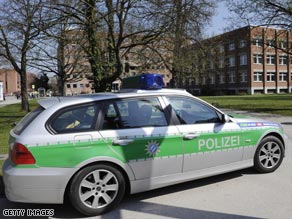 A police car sits outside the courthouse in the German city of Landshut.
The gunman, a 60-year-old man, was among the dead, Bavarian Police said in a statement.
It happened around 10:15 a.m. (4:15 a.m. ET) during a break in a court proceeding about inheritance, Landshut police spokesman Leonard Mayer told CNN.
The man began shooting once he stepped outside the courtroom, police said.
He wounded three people before turning the gun on himself, Mayer said. One of the victims, a woman, died about 2 1/2 hours later, Bavarian Police said.

Watch more about the shooting »
The lives of the two wounded victims are not in danger, he told CNN.
Don't Miss

The courthouse has no metal detectors or security checks that would have turned up the shooter's weapon, Mayer said.
This latest shooting in Germany took place less than a month after a school massacre in the southwestern town of Winnenden, in which a total of 16 people were killed.
E-mail to a friend