LONDON, England (CNN) -- India's prime minister, in a speech ahead of the G-20 economic summit, called for added funding to developing nations as a way to maintain demand in a troubled global economy.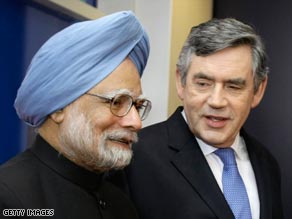 Indian PM Manmohan Singh is greeted by British counterpart Gordon Brown at the G-20 summit.
"We must ensure that countries hurt by the massive withdrawal of private capital that has taken place, which is unlikely to be reversed in 2010, are able to rely upon an increased flow of resources from the international financial institutions," Indian Prime Minister Manmohan Singh said Wednesday.
Speaking at a dinner hosted by his British counterpart Gordon Brown, he added: "This will help these countries to maintain a higher level of demand than would otherwise be possible and thus help global revival."
He urged the G-20 nations to boost International Monetary Fund resources by around $500 billion over the next two years, initially bilaterally and by expanding NAB (new arrangements to borrow).
Singh also suggested doubling IMF quotas as early as possible.
Don't Miss
The Indian leader, seen as architect of the South Asian nation's economic reforms, called for an easing of conditions for the use of Fund resources.
"Unless this is done, countries will prefer to build foreign exchange reserves which would be counter-productive in current circumstances," he warned.
Multilateral development banks, he added, can also play a key role in maintaining flow of resources to developing countries over the next two years.
Singh underscored the need to endorse a doubling of the capital of the Asian Development Bank as an immediate step.
The World Bank, he said, should also expand its lending in the next two to three years so as to fill the "gap left by the withdrawal of private capital flows."

"By directing its lending to infrastructure development and recapitalization of the banks, it would help to support contra-cyclical policy in a manner which stimulates an early resumption of growth in these economies," he said.
The Indian prime minister also sought an urgent review of the World Bank's present single borrower limits and said its debt to capital ratio also needed to be made more liberal.
E-mail to a friend

-- CNN's Harmeet Shah Singh contributed to this story.