By Simon Hooper





LONDON, England (CNN) -- After the pageantry and splendor of audiences with the Queen and dinner at Downing Street, G-20 leaders could be forgiven a sense of anti-climax as they arrived for work Thursday for a summit heralding a "new era of international partnership," according to British Prime Minister Gordon Brown.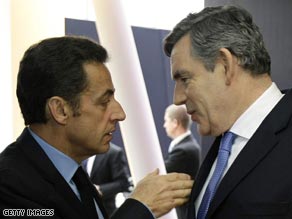 Nicolas Sarkozy has warned Gordon Brown that the G-20 must agree to tough new rules for banks.
For security reasons, the leaders and their accompanying delegations have been closeted away in a cavernous exhibition hall on London's eastern fringes; a nondescript landscape of travel hotels and car parks that would feel instantly familiar to traveling salesmen the world over.
Were it not for the heavily armed police presence that have turned the ExCel Centre into a protest-free zone, the day's gathering could easily be mistaken for a conference of executive junior managers.
But the setting belies the ambition of the task that British Prime Minister Gordon Brown has set for himself and his guests.
In an essay published in a magazine welcoming delegations to London, Brown called on leaders to agree to a "global new deal" that would "prepare the ground not just for sustainable economic recovery but for a genuinely new era of international partnership."
Despite clear differences in tone between those in favor of further economic stimulus packages (namely Brown and U.S. President Barack Obama) and those opposed to pouring further public money into economies already in recession (German Chancellor Angela Merkel and French President Nicolas Sarkozy) there were early signs Thursday of agreement in other areas considered crucial to the summit's success.

Watch more on the G-20 summit »
Fact Box
This week's London Summit brings together the leaders of the world's 20 largest economic powers, known as the Group of 20, to discuss the global financial crisis and decide new measures to set the world on a more stable economic footing.

Opening Thursday's main session, Brown said there was already a "high degree of consensus" between leaders on what the final communique would contain.

Obama also said Wednesday he was "absolutely confident" that leaders were ready to work together to deal with the world's economic problems.

That could mean an agreement to impose tougher regulations on the global finance industry, including a clampdown on tax havens and offshore banking.

The President of the European Commission, Jose Manuel Barroso, earlier told CNN that he saw no "major difference" between the U.S. and Europe on the need to impose tighter controls on banks and financial businesses.

"President Obama is very committed to strong supervision and effective regulation globally," Barroso said.

Watch European Commission chief on summit »
"There are lessons to be learnt from what happened on Wall Street and I am sure that Americans are the first to understand that because after all it was there that the problem started... I see real convergence and I see the United States as committed as we are to effective sensible responsible regulation."
Barroso also called for tax havens to be cleaned up -- with sanctions imposed on regimes that failed to comply with new rules -- concrete targets for fiscal stimulus plans, a rejection of protectionism and a commitment to concluding talks on a new global trade deal.

But British Business Secretary Peter Mandelson warned that there remained much to be done to nail down a precise agreement during further bilateral and plenary sessions expected to run late into the evening -- and warned of "strains" among some delegates.
"I hope very much that they will be ironed out and we'll come out with agreement at the end of the day," Mandelson told CNN.
E-mail to a friend