By CNN's Simon Hooper





LONDON, England (CNN) -- Visions of apocalypse -- financial and environmental -- hung over London on Wednesday, as protesters gathered in the streets of the city's financial district on the eve of the G-20 summit of world leaders.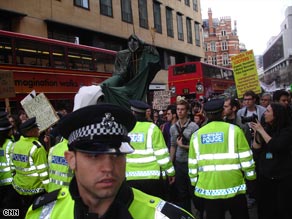 Police stand guard as protesters march behind a giant "Horseman of the Apocalypse" puppet.
But the worst fears of those who had predicted an explosion of rage against the Bank of England and other symbols of capitalism largely failed to materialize due to a heavy police presence and the peaceful intentions of a large majority of protesters.
Around 4,000 anti-capitalist and environmental campaigners, loosely organized under the umbrella group G-20 Meltdown, followed four giant "Horsemen of the Apocalypse" puppets from four London railway stations, converging on the Bank of England at around 11.45 a.m. local time (6.45 a.m. ET) for a demonstration billed as a "mass street party."
"Justice! Peace! Climate!" the crowds chanted, and "Revolution!" Some carried banners reading "Abolish money," "Balls to the bankers," and "Capitalism isn't working."
There were sporadic clashes between police and protesters clad in black hoods and masks, as one of the marches approached the bank from Liverpool Street Station. Several police helmets were thrown in the air, and officers were forced to retreat to the steps of the bank, as some protesters threw pink paint and smoke bombs. Windows were also smashed at a nearby branch of the Royal Bank of Scotland.
Police quickly moved to shut down the area, trapping thousands of protesters outside the bank and deploying extra offices in riot gear and on horses.
But the mood inside the cordon remained mostly good-humored with a jazz band, drummers and street theatre groups keeping the crowds entertained throughout the afternoon. Many sat in the road enjoying the warm spring sunshine or chalking slogans on walls and pavements.
G-20 Meltdown organizer Marina Pepper told CNN that the protest had been "absolutely brilliant" but said she had been disappointed by the heavy police presence.
"They were definitely looking to cause trouble," Pepper said. "We had to be quite forceful to get to the bank. They looked a bit fierce. No can get out, no one can get in, so we'll just wait and see what happens."
Don't Miss
Protesters had gathered to voice their grievances on a wide variety of issues but many had come to express dissent over the state of the economy and the collapse of the banking system.
Ian Dixon had traveled down from Whitby, northern England, after losing his job at a hydraulics manufacturing plant in December.
"Gordon Brown does not realize how bad things are. He just wants to be a world figure" Dixon said. "When I was made redundant I came away with £5,000 ($7,000) for 15 years' service. Bankers have come away with hundreds of thousands for mismanagement. The people who have been prudent and careful have ended up being punished."
Amy Blythe, a 24-year-old hairdresser wearing a T-shirt with the slogan "Pick flowers not fights," said she was protesting for world peace. "No one wants to fight except for the police," she said.
Elsewhere, hundreds of environmental campaigners pitched dozens of tents outside the European Carbon Exchange, blocking the street to traffic, setting up compost toilets and playing musical instruments.
"None of the world leaders are taking climate change seriously, and we're here to put pressure on them," one 19-year-old student told CNN. She said protesters planned to camp out overnight. Policing appeared less confrontational than at the Bank of England with officers mostly directing traffic.
Tamsin Omond, 24, said she had joined the protests to show her "dissent at the system."
"Today is about showing that the old system hasn't worked and that we need a new way of thinking about how we might solve the financial crisis, and seeing if we can marry that with saving the environment."
Earlier, Liverpool Street Station, usually a busy transport hub for commuters, was unusually quiet during rush hour with many workers apparently staying away from their offices.

Many others heeded advice to dress down, shunning the City's usual pinstripe two-pieces for casual shirts and jeans. But some could not be deterred from donning a suit and tie.
"Most people seem to be wearing dress-down clothes, but this is how I've dressed for work for 40 years," said insurance broker Alan Rice. "I have faith in the British system, and I'm not overly concerned by the protesters. They are mostly just ordinary citizens. They're not disruptive people."
E-mail to a friend

All About Gordon Brown • G20 Industrial Nations