(CNN) -- Security at the G-20 summit in London, England, is tight as protesters fill the streets. CNN anchor Kiran Chetry spoke Wednesday with Frances Townsend, who was Homeland Security adviser under the Bush administration, about the security. Townsend now is a national security contributor on CNN.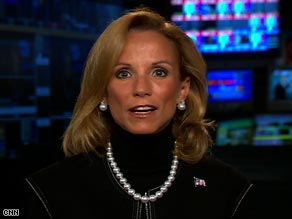 CNN national security contributor Frances Townsend says police have three objectives in terms of G-20 security.
Kiran Chetry, CNN anchor: Thanks for being with us this morning. And as we look at those pictures, it's very interesting to hear what police officers are saying, because usually they try to downplay these types of events, right? And say things like, it's under control, they're keeping things calm.
In this case, they're calling it almost an unprecedented level of activity and something that really took them. They called it one of the most challenging and complicated public order operations that Scotland Yard has ever devised.
What are they looking at today as they try to make sure that these protests maintain a peaceful nature?
Frances Townsend, CNN national security contributor: Well, there's no question, Kiran, that it is unprecedented in London.
But remember, going back several years ago to the G-8 summit in Genoa where Italian police confronted protesters, it turned violent. There was an investigation about the use of force by police. The police were ultimately cleared there. But after that, all the G-20 countries looked at how they handle civil disobedience and protest.

Watch more about the protests »
I don't think there's -- other than American authorities, I can't think of anybody better prepared than Scotland Yard to deal with this sort of level of interest and involvement by protesters. The key here is to keep everybody safe and for it not to turn violent, for nobody to get hurt, none of the dignitaries and none of the protesters.
Don't Miss
And I think what the British police, Scotland Yard, are trying to signal to folks is, this is complicated. They take it seriously, but the idea is to let world leaders get together, have their discussions without the distraction of violent protests. And I think the British are likely very well prepared to deal with this.
Chetry: We're looking at these pictures, Fran. We've seen the crowds grow actually just in the past hour or two. And at one point, protesters pushed against these police barricades that were set up outside of the Bank of England, shouting things like "abolish money."
They've arrested six people so far, but how do they -- I mean, I know they planned for this, but as the crowds start to swell, what are the biggest challenges and how do you protect the public?
Townsend: Well, Kiran, what you saw when these crowds began to surge was the police, the Scotland Yard police officers linked arms, which is a common technique. They train for this. And they train for crowd surge.
The idea is they have three primary objectives in any major protest. One, protect the dignitaries, the safety of the dignitaries. Two, keep transportation routes open so the dignitaries can get their business done. And third, what you're seeing now is, allow peaceful protests, and do everything you can to prevent them from turning violent.
They're right to worry about that. Remember when Prime Minister Tony Blair hosted the G-8, you had the terrorist attacks on the train bombing in London, which was very disruptive. So what they're looking for is, in these crowds of peaceful protesters, is there someone -- are those in those crowds that would take, look to take advantage to disrupt it, a terrorist attack and that sort of thing?
So I think the London police are right to worry about this, but they've got thousands of police officers to try and control the surging crowds. And this will be their challenge today, to allow the leaders to be safe, conduct their business, but to permit peaceful protests that don't turn violent.
Chetry: Right ... You spoke about just how orderly and prepared Scotland Yard is. You gave them major kudos for the fact that they really did put together a really challenging and complicated public order/operation here to make sure things did not get out of hand. What do you see as we're watching these pictures and we're seeing the protests grow as their biggest challenge today, Fran?
Townsend: Well, as I said, Kiran, three objectives.
Remember, they've got to protect the dignitaries. Two, they've got to keep transportation routes open so the dignitaries can get back and forth and conduct their business. And third is to allow these peaceful protests to continue without turning violent. And one of the ways you do that is with an overwhelming presence.
[CNN anchor} T.J. [Holmes] mentioned mobilizing 10,000 police officers. That's the way. That's an overwhelming presence, and what you do is you allow them the freedom to speak and to protest, but you're protecting them at the same time and not letting it get out of hand.

It looks, you know, it's good weather. It's a nice day in London. It's a pretty afternoon. And as long as they've got the ability to muster the protesters around the Bank of England, it should remain pretty peaceful, and leaders can get their business conducted safely.
Chetry: Fran Townsend, thanks so much.
E-mail to a friend

All About G20 Industrial Nations