(CNN) -- Workers in France have released four managers they had been holding hostage for more than 24 hours.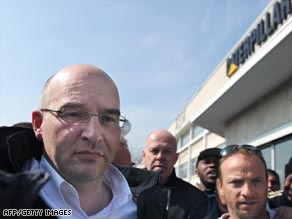 Caterpillar plant director Nicolas Polutnik (left) leaves the building after the 24-hour protest.
The workers at a Caterpillar factory in Grenoble, southeastern France, were protesting 700 job cuts and the layoff package offered to them.
Caterpillar said the company suffered a 55 percent loss in the past year.
The French news agency, AFP, reported factory director Nicolas Polutnik was freed with the head of personnel and two other managers.
AFP also reported negotiations resuming Wednesday on a possible cut in the number of redundancies and redundancy payments.
The company's human resources director, who has heart problems, was allowed to leave the factory Tuesday.
It was at least the third time in a month that French workers threatened with cutbacks have blockaded managers in their offices to demand negotiations. Executives were released unharmed each time.
Employees at a French 3M factory held a manager hostage for more than 24 hours Wednesday and Thursday of last week over a dispute about terms for laid-off staff.
Earlier in March, the boss of Sony France was held overnight before workers freed him after he agreed to reopen talks on compensation when the factory closed.
France has been hit by nationwide strikes twice in the past two months.
E-mail to a friend