(CNN) -- Russian President Dmitry Medvedev says he is ready to work with U.S. President Barack Obama to overcome a recent low point in U.S.-Russian relations.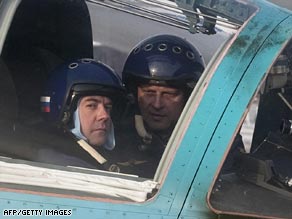 Russian President Dmitry Medvedev, front, says he wants to work with Barack Obama.
The Russian leader, writing an op-ed in The Washington Post ahead of Thursday's G-20 summit in London, said he and Obama have exchanged letters this year that "showed mutual readiness to build mature bilateral relations in a pragmatic and business-like manner."
Medvedev cited a number of possible areas of cooperation between the two countries, starting with nuclear disarmament. He agreed with Obama that resuming the disarmament process should become an "immediate priority."
"The wish to ensure absolute security in a unilateral way is a dangerous illusion," Medvedev wrote. "I am encouraged that our new partners in Washington realize this."
Both countries see a need for "collective solutions" to the problems in Afghanistan. Conferences on Afghanistan, organized by each country, should be part of a "mutually reinforcing rather than competitive" approach, he said.
Medvedev also said the two countries should help take the lead at the G-20 summit to address the state of the global economy.
Don't Miss
Russia and the United States should push for "universal rules and discipline" in the financial sector and discuss the introduction of a supranational reserve currency, potentially under the International Monetary Fund, Medvedev wrote.
But Medvedev and Obama's first meeting -- scheduled for Wednesday, the day before the summit -- will offer the chance for a new start in their countries' relationship, the Russian leader said.
"Unfortunately, relations soured because of the previous U.S. administration's plans -- specifically, deployment of the U.S. global missile defense system in Eastern Europe, efforts to push NATO's borders eastward and refusal to ratify the Treaty on Conventional Armed Forces in Europe," Medvedev wrote. "All of these positions undermined Russia's interests and, if implemented, would inevitably require a response on our part."
He said neither country should allow "drift and indifference" in their relationship.
"We should agree that overcoming our common negative legacy is possible only by ensuring equality and mutual benefit and by taking into account our mutual interests," he wrote. "I am ready for such work with President Obama on the basis of these principles, and I hope to begin as early as tomorrow at our first meeting in London before the Group of 20 summit."
E-mail to a friend