By CNN's Simon Hooper





LONDON, England (CNN) -- British Prime Minister Gordon Brown said Monday he believed world leaders would "rise to the challenge" at this week's G-20 summit by agreeing firm measures to set about tackling the global financial crisis.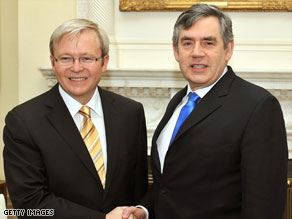 Gordon Brown, right, met Australian Prime Minister Kevin Rudd on Monday.
Brown, who hosts Thursday's meeting in London, has spent the past few weeks courting a succession of world leaders in a bid to persuade them to sign up to a package of proposals he has described as a "global new deal," including tighter financial regulations and further government stimulus measures.
But other leaders have distanced themselves from Brown's agenda, with German Chancellor Angela Merkel apparently speaking for other European leaders when she expressed skepticism this weekend about the wisdom of pouring further public money into economies already in recession.
"This crisis did not come about because we issued too little money but because we created economic growth with too much money, and it was not sustainable growth," Merkel said in an interview with the Financial Times.
According to a leaked draft of a proposed G-20 communique published by the Financial Times, leaders will sign up to a pledge to avoid protectionism and agree measures to reform markets and financial institutions.
But the draft, which sets a 2010 target date for global economic growth to be achieved, suggested no agreement on further stimulus packages is on the negotiating table.
Don't Miss
Speaking to reporters after a meeting Monday with Australian Prime Minister Kevin Rudd, Brown said he was confident world leaders were ready to do "whatever is necessary" to fix the economy.
"The speed and scale of global economic change has overwhelmed the old national systems of rules and regulations. We have to show that out of global problems we can agree global solutions. The London summit is the chance to show we can work together," Brown said.
A Downing Street spokesman appeared to dampen expectations later Monday by telling reporters that the summit was "part of a process" and hinting that G-20 leaders could meet again later this year, according to the UK's Press Association.
Italian Prime Minister Silvio Berlusconi, who is due host G-8 leader in Sardinia in July, has already offered to upscale that meeting into a full G-20 summit.
A spokesman for Brown said Thursday's meeting was part of a "process that is nearer to its beginning than its end."
But in an article published in Monday's Evening Standard newspaper, Brown said world leaders understood that "sitting back and failing to act would be a failure of leadership" and "the cost of doing nothing, and allowing the world to slide into prolonged recession, would run the greatest risk of all."

Speaking after afternoon talks with Mexican President Felipe Calderon, Brown said leaders had a choice to make.
"We can either let the recession run its course and retreat into isolationism -- a 'do nothing' approach that will push us further into recession. Or we can resolve as a world community to unite, to act and fight back against this global recession that is hurting people in every country in every continent."
E-mail to a friend