(CNN) -- A 17-year-old suspect faces murder charges in the killing of a Northern Ireland policeman earlier this month, police said Monday.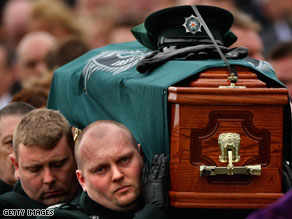 Stephen Carroll's coffin is carried from St Therese's chapel in Banbridge, Northern Ireland, on March 13.
The teen was among seven people arrested in connection with the killing of Stephen Carroll, 48, on March 9. Two suspects, ages 27 and 31, have since been released after being questioned for a week over Carroll's death, police said.
Four others are being held in connection with the shooting of two British soldiers, Cengiz "Pat" Azimkar, 21, and Mark Quinsey, 23, on March 7.
The teen, who was arrested March 10, was also charged with "collecting information likely to be of use to terrorists" and being an alleged member of Continuity IRA -- a republican splinter group considered a terrorist group by the United Kingdom.
Earlier Monday, Gerry Adams, the leader of Sinn Fein -- a predominantly Catholic party that wants Northern Ireland to leave the United Kingdom and become part of the Republic of Ireland -- called on police to either charge or release the suspects held over the killings.
"There are currently a number of people, including a 17-year-old juvenile, being detained by the PSNI for periods extending beyond human rights best practice. This is not acceptable," he said, referring to the Police Service of Northern Ireland.
The shootings raised fears that Northern Ireland could be plunged back into the sectarian violence that left about 3,600 people dead over the course of three decades. But political leaders from across the spectrum condemned the killings, and so far the violence has not escalated.
Republican splinter groups claimed responsibility for both incidents, according to British media reports.
The courts granted the police extra time over the weekend to question five of the suspects without charging them.

Adams, who heads the largest republican party in Northern Ireland, said the extensions were unacceptable.
"If there is evidence which exists against somebody, then that person should be charged and the evidence put before the courts," he said in a written statement. "If no such evidence exists then that person should be released."
E-mail to a friend

Journalist Peter Taggart in Northern Ireland contributed to this report.
All About Northern Ireland • Irish Republican Army • Sinn Fein