LONDON, England (CNN) -- A man was arrested Sunday on suspicion of involvement in a bomb hoax after an incident temporarily shut down London's Gatwick airport, police said.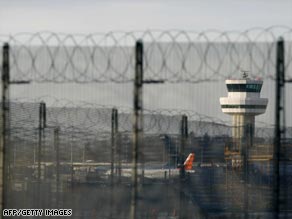 The control tower at Gatwick Airport, the scene Sunday of a security scare involving an Emirates airliner.
The airport was closed about 6:45 a.m. local time (2:45 a.m. ET). Sussex police said a passenger on board a flight from Dubai found a note "implying there may be a suspicious device on board."
The incident occurred aboard EK 011, from Dubai, United Arab Emirates, to London, according to Emirates airline. The note was found about 10 minutes before the plane landed at Gatwick, the airline said.
There were 164 passengers on board, police said in a statement. They and the crew were evacuated from the plane, and a bomb disposal team worked with police to search the aircraft and luggage.
"This was potentially an extremely serious situation and we immediately mounted an emergency response," Chief Inspector Ed Henriet said in the Sussex police statement.
"At all times public safety was the key priority. All the agencies worked together to provide a coordinated response and minimize disruption and the airport operated as normal during this time.
"We are very grateful for the calm and understanding response from those directly affected, including the passengers who were on board and those waiting to meet them."
The man arrested is in his 20s, police said. Asked whether he was a passenger on the plane, a Sussex police spokeswoman declined comment. She said the search and investigation had concluded as of 3 p.m. local time (11 a.m. ET).
The plane was taken to a holding area at the London airport to be searched. Gatwick reopened after the closure.
E-mail to a friend

CNN's Per Nyberg contributed to this report.