By Ramya Jaidev
CNN





LONDON, England (CNN) -- The sales of non-essential luxury goods have plummeted since the recession hit. No sector has been spared.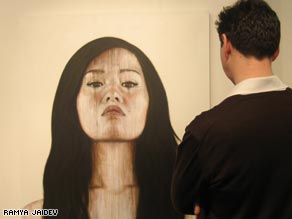 James Freeman studies 'Maya' by Peter Michael at the Affordable Art Fair.
In the art world, even the notorious Banksy, whose set of six prints featuring Kate Moss was expected to fetch £150,000 ($207,000) at a recent Bonham's auction in London, is failing to sell.
As even the most lavish spenders tighten their purse strings, there can't be much hope for the wider art market, can there?
There can, according to Nicky Wheeler, director of the Affordable Art Fair. "In four days, there are 20,000 people. And a lot of them are here actually to buy art. They're not here just to look, they actually want to purchase something."
The Affordable Art Fair is exactly what it sounds like -- a showcase of a wide variety of art with a price limit of £3,000, ($4,100) with the intention of bringing art to wider audience.
Now in its 10th year, it is the brainchild of Will Ramsay whose own gallery is based on similar principles of affordability and accessibility.
One hundred and twenty galleries from all across the world have stands at the fair in Battersea Park, which features work from as little as £50.
The price ceiling is not a reflection of lower quality either.
The biannual event has become renowned as a place where younger, lesser-known artists make their first impressions on the public, which is evident from the bustling crowds that attend.
"We had an artist called Anthony Mikhalev who we showed three or four years go and his work was selling, at that time, for about £1,000. His work has sold in the last couple of years in America for about £350, 000," says Wheeler.
It prompts the thought: could affordable art be a viable investment?
James Freeman, director of the Sesame gallery in north London, argues that it's as good as any. "I have a lot of people coming to me and they're actually losing money because there's virtually no interest in the bank. The cash isn't doing anything for them.
"And it's much more enjoyable to be sitting and looking and enjoying your cash on the wall, if you like, rather than sitting and looking at it doing nothing in the bank."
Collectors are certainly interested, as Alison Honour, owner of art.file gallery says: "Art is always going to be desirable. It's unique, it's one-off, you can only get one painting sometimes."
Honour sold "Le Dormeur du Val," a painting by up and coming artist Guy Denning, within the first five minutes of the fair's opening.
But how can the same consumers who are cutting back on luxury cars and diamonds afford to splurge on art?
Freeman explains that the art market is not homogenous -- there is more variety than one might think, and the slowdown only really affects the high-end.
"You can look at auctions and see how everything may not be going as healthily as it was, say a year or two ago. But that's the high-end, almost the same as the financial services market to an extent. Whereas there's a huge art market that isn't necessarily in that top maybe six, seven figure bracket."
Events like the AAF -- running until March 15 at Battersea Evolution in south London -- are also crucial as a platform, both for artists and collectors.
In recession more so than ever, fairs like this one help maintain a level of public engagement with art buying, in order to keep the art world afloat.
"We need to keep [the artists] fed, we need to keep them working, we need to support that creative industry. And I think the affordable art fair allows that to happen, it's a great platform for them," says Honour.
It's not all just for the artists' benefit either, as Freeman suggests. The relaxed atmosphere of the fair allows buyers to browse and discover what they really like, without the intimidation or pressure of a gallery environment. "In the same way that my gallery develops young artists, this is a very good way of developing young collectors and buyers."
If the volume of traffic is anything to go by, all three have a point. With a little imagination, it seems the art world is finding innovative ways to thrive after all. Perhaps Banksy should set up a stand.
E-mail to a friend

All About Painting • Culture and Lifestyle