CRAIGAVON, Northern Ireland (CNN) -- A police officer was slain in a shooting in Northern Ireland late Monday, just two days after two British troops were killed at a military base in the province, authorities said.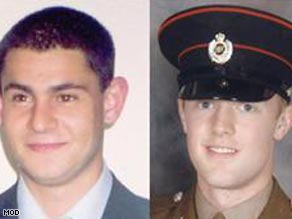 Cengiz Azimkar, left, and Mark Quinsey were killed Sunday at a base in Massereene.
Police said the officer was shot in the head in Craigavon, a town southwest of Belfast. The victim was one of four officers who responded in two patrol cars to a call from a "terrified member of community" about 9:45 p.m. (5:45 p.m. ET), Chief Constable Hugh Orde told reporters early Tuesday. The victim's vehicle came under fire and he was killed.
"It's sadly as simple as that," Orde said, adding that the other officers were unharmed.
The identity of the victim -- the first police officer killed in Northern Ireland in more than a decade -- was withheld by authorities, pending family notification.
Orde declined to give details about the nature of the caller or the "threat" to which the officers were responding.
The incident followed the slayings Saturday of two British soldiers who were shot at a base in Massereene, in County Antrim, as they were preparing to ship out for duty in Afghanistan. The victims had already packed their bags, changed into desert uniforms and were awaiting a final pizza delivery, authorities said.
"Some of them decided to order a final takeaway pizza before they departed," Brigadier George Norton said from the base.
Don't Miss
Two masked gunmen with automatic rifles shot the soldiers as the pizzas arrived at the Army barracks, authorities said. Two other soldiers and the two pizza deliverymen were seriously wounded.
"They [the gunmen] continued firing at the men even when [soldiers were] injured, even when some had fallen to the ground," Northern Ireland Secretary Shaun Woodward told parliament on Monday. "The firing lasted for more than thirty seconds -- more than sixty shots were fired."
A militant splinter group, the Real IRA, reportedly claimed it had carried out the attack on the soldiers.
Monday's shooting at the working-class Craigavon neighborhood seemed to underscore mounting tensions there in recent months. The area is known to harbor dissidents, and it experienced rioting and raids last year as police looked for suspected terrorists.
"I think what we're seeing is a growing realization by a very small number of people that see Northern Ireland is going in a positive and peaceful direction -- their attempt is to derail that," said Orde, the chief constable.
The shooting was quickly condemned by political parties, saying both incidents over the past few days were a threat to peace.
"I utterly condemn this latest wicked and murderous attack by dissident republicans," said Danny Kennedy, deputy leader of the loyalist Ulster Unionist Party.
Officials with Sinn Fein, a predominantly Catholic party that wants Northern Ireland to leave the United Kingdom and become part of the Republic of Ireland, also spoke out against the attack. The party is widely thought to be linked to the Irish Republican Army.
"This is an attack on the peace process. It is wrong and it is counter productive," said John O'Dowd, a senior member of the group.
"This is a time for strong political leadership and cool heads," he added. "It is a time for all political parties and the two governments to recommit to the principles which have underpinned the peace process and delivered the stability of recent years."
The two soldiers killed Saturday -- Cengiz "Pat" Azimkar, 21, and Mark Quinsey, 23 -- were the first British troops to be killed in the province in more than 12 years, the Ministry of Defence said.
The shootings sparked fears of a return to the sectarian violence that Northern Ireland suffered for two decades before that.
Earlier Monday, British Prime Minister Gordon Brown met local political leaders and troops at the Massereene base.
He said the Real IRA had "no place in the politics of Northern Ireland."
"These are callous murderers (who) carried out executions outside these barracks," he said. "These people have got to be hunted down and brought to justice as soon as possible."
The attackers who killed the soldiers shot them a second time as they lay on the ground after an initial burst of gunfire, Detective Chief Superintendent Derek Williamson of the Police Service of Northern Ireland said Sunday. The attackers fled in a car driven by a third person.
Williamson called the attack "an attempt at mass murder," adding: "Our inquiries are concentrating on dissident republicans," referring to militants who refused to join the Irish Republican Army in support of the Northern Ireland peace process.
Brown said the attack was a sign the peace process was working, rather than a signal of its failure.
Northern Ireland, a province of the United Kingdom, was racked for decades by violence between unionists, who are mostly Protestant and want to remain part of the U.K.; and republicans, who are mostly Catholic and want to join the Republic of Ireland.
For nearly 30 years, British soldiers patrolled Northern Ireland in armored vehicles and hunkered down in bases surrounded by concrete walls and barbed wire. Violence spilled over into Britain, with the Irish Republican Army, known as the IRA, bombing London and other British cities.
Northern Ireland now has a power-sharing government and a prevailing peace that had been welcomed by all but radical splinter groups on both sides.
Gerry Adams, the republican movement's leading figure and head of Sinn Fein, earlier Monday said the attack on the soldiers was "an attempt to subvert the peace process, an attempt to bring everybody back to conflict, to bring more British soldiers onto the streets -- and we are not going to allow that to happen."

Woodward, Northern Ireland's secretary, told parliament Monday that "the level of threat posed by dissident republicans has recently been higher than at any time in the last six years."
He said militants organized 18 attacks in 2008, and at least three this year. Last week, Northern Ireland authorities bumped its terror threat level from "substantial" to "severe."
E-mail to a friend

CNN's Carol Jordan in London and journalist Peter Taggart in Northern Ireland contributed to this report.
All About Northern Ireland