LONDON, England (CNN) -- Chelsea and England defender Ashley Cole has apologized to London police for a foul-mouthed tirade that led to him being arrested for drunk and disorderly conduct in the early hours of Thursday morning.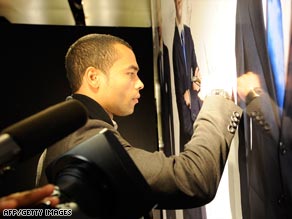 Ashley Cole, pictured signing an autograph at a charity event in London Wednesday.
In a statement released by the left-back, Cole said he swore out of his frustration with the paparazzi and insisted he would never disrespect the police.
However, Cole admits he did not heed their warnings to calm down and regrets not taking their advice. He also made it clear that he had not consumed a vast amount of alcohol.
Cole declared: "I would like to take this opportunity to apologize to the police officers on duty last night for my language.
"I felt I was being harassed by paparazzi and while complaining to the police about this at the scene they did warn me to calm down, a warning that I regrettably did not heed.
"I fully appreciate that whatever frustrations I may have had with others that it was completely inappropriate to vent those in conversations with the police.
"However, I do want to make clear that I swore in frustration at the paparazzi's behavior. I would never disrespect police officers in anyway.
"I take very seriously my responsibilities as a professional footballer, this includes keeping my body in the best condition. Although I had consumed some alcohol earlier in the evening on a night out with friends it had not been excessive.
"But I accept that the language I used on this occasion was wrong. I regret my actions and how it reflects on myself and Chelsea Football Club."
The 28-year-old was arrested in Brompton Road in the upmarket west London area of South Kensington, close to Chelsea's Stamford Bridge ground, at about 2.15am on Thursday morning after emerging from the Collection nightclub.
Police sources said the officers were already on patrol in the street and were not called to any disorder. One source denied reports they were following up a complaint from a photographer over an alleged bust-up with Cole.
Cole was taken to a central London police station and issued with an £80 fixed penalty notice for being drunk and disorderly before being released shortly after 5.30am.
Cole is likely to be fined by Chelsea.
Before his arrest, Cole had joined Chelsea's first-team squad and more than 300 charity workers, celebrities and supporters for the second annual Chelsea FC and Armani charity fundraiser.
Cole, who previously played for Arsenal before joining Chelsea in 2006, is married to the Girls Aloud singer and reality TV judge Cheryl Cole, who is currently on a charity climb on Tanzania's Mount Kilimanjaro.
E-mail to a friend

All About Chelsea FC