By Olivia Feld





LONDON, England (CNN) -- The economic crisis cast a long shadow over London Fashion Week, with designers holding their catwalk shows in smaller venues or skipping the catwalk in favor of low key presentations.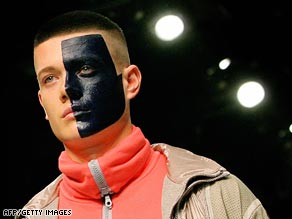 London Fashion Week felt the chill wind of the recession, with designers forced into smaller venues.
Hilary Alexander, fashion editor on the UK's Daily Telegraph newspaper, said the recession's impact was not a surprise.
"Fewer American buyers are coming here, and that's to be expected if you look at the situation with the pound and the dollar plus the fact that they'll also go to Milan and Paris."
Hilary Riva, CEO of the British Fashion Council, told CNN: "Buyers, certainly from department stores in the U.S., are cutting budgets. So in overall terms, of course, they are going to be buying less. But they come to London in particular -- and the emerging designers -- for something different."
Roberto Cavalli's secondary line, Just Cavalli, is another fashion casualty of the financial crisis. The Just Cavalli catwalk show, a highlight of Milan Fashion Week, was cancelled with only two days notice. The reason cited: Financial trouble.
The impact of the recession could be seen throughout London Fashion Week, which had been cut to five days to fit between New York and Milan's shows, with many designers moving their shows away from the main area by the Natural History Museum in South Kensington.

Watch designer Paul Smith talk about the recession »
Some brands cut the catwalk element out completely, instead holding shows in smaller, more intimate and cheaper locations. New style presentations were held over several hours, increasing the likelihood of fashion buyers attending.
Maria Grachvogel, who once used Victoria Beckham in her 2000 London Fashion Week show, displayed her latest autumn/winter collection in rolling half-hour presentations.
"A presentation gives much more flexibility to both the press and buyers to fit in their schedules," said Grachvogel.
"I think in a way, in this kind of environment, that seems much more appropriate to show the collection in that kind of intelligent way so your really focusing your eyes on the clothes and not necessarily all the theatre," Grachvogel told CNN.
The exhibition space where buyers have the chance to see the garments up close was cut down by 15 stalls from last London Fashion Week.
London Fashion Week has previously launched the careers of Alexander McQueen and John Galliano, both of whom have now traded London for Paris Fashion Week.
"London Fashion Week is known for its dynamism and creativity -- you don't come to London for the big global labels. You come here for what's new, and for the emerging talent," Riva said.
But designers have to adapt to a changing market, with cheaper showroom garments just as important as headline-grabbing catwalk outfits.
"There will be a collection of clothes which balance the attention seeking clothes, which are rent payers, which are at the correct price, not too high but still very beautiful," legendary British designer Paul Smith told CNN.

London Fashion Week is part financed by public funding through the British Fashion Council. In 2007 the London Development Agency allocated a £4.2m grant to the British Fashion Council -- £40,000 of this has been used to subsidize the cost of accommodation or travel for buyers.
The British Fashion Council estimates that London Fashion Week generates £20 million for the city's economy and produces orders of about £100 million.
E-mail to a friend