LONDON, England (CNN) -- Doodling on a piece of paper while listening to a boring lecture or phone conversation actually helps concentration and can make facts easier to recall, British researchers said Friday.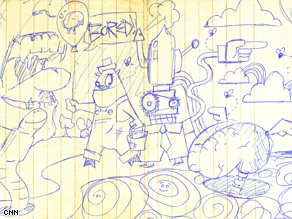 It doesn't matter what you scribble, doodling has now been found to focus your mind.
It's generally thought scribbling indicates daydreaming, but a study published Friday in the journal Applied Cognitive Psychology says doodling may actually decrease those wandering thoughts and help focus the mind.
Jackie Andrade, a psychology professor at the University of Plymouth in England, studied 40 people and asked them to listen to a mock two-and-a-half-minute telephone message mentioning the names of eight people going to a party.
Half the participants were told to shade in squares and circles printed on a piece of paper while listening to the tape and the other half were given no task. After it was over, the participants were asked to recall the names in a surprise memory test.
Those who had shaded in the shapes recalled 29 percent more information than those who didn't, Andrade said. Send us your doodles
The shading task was meant to encourage the "absentmindedness" common in doodling. Andrade said participants were not asked to doodle freely in case they felt self-conscious about their drawings or suspected their doodles were the real focus of the study. What do you like to doodle? Sound Off below
While the reason isn't known, Andrade said the results show doodling aids concentration. One possibility is that doodling reduces daydreaming in situations where daydreaming might harm performance more than scribbling on a piece of paper, she said.
Listening to the mock phone message would have encouraged daydreaming because the task was dull and participants had no reason to try to remember the names.
Doodling may have reduced daydreaming also because it didn't detract too much from the primary task of listening to the tape, but was enough to stop the mind from wandering too much, Andrade said.
Applied Cognitive Psychology is the official journal of the Society for Applied Research in Memory and Cognition.
E-mail to a friend