LONDON, England (CNN) -- A British resident released after four years at Guantanamo Bay arrived back in the UK Monday, officials said, in a case that has helped deepen controversy over U.S. treatment of accused terrorists.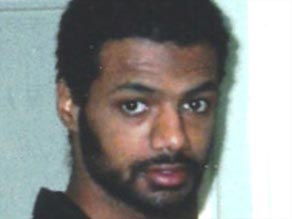 Binyam Mohamed says he was tortured while in U.S. custody.
Binyam Mohamed, seized in Pakistan in 2002 on suspicion of terrorism, returned after being freed in a deal between the British and U.S. governments, the UK Foreign Office said.
Police said he was detained under anti-terror regulations after arriving in the UK and released about five hours later.
Ethiopian-born Mohamed says he was tortured into falsely confessing to terrorist activities while in U.S. custody in Morocco. He says he was then taken to Afghanistan and then to Guantanamo in 2004.
He says the UK intelligence agency MI5 was complicit in his treatment.
The United States charged him last year with allegedly plotting to blow up apartment buildings in America with radioactive "dirty bombs."
But all formal charges were dropped against him and four other detainees last October. Mohamed subsequently went on hunger strike to protest his imprisonment.
Mohamed is the first Guantanamo Bay detainee to be released since U.S. President Barack Obama ordered the closure of the detention facility at a U.S. naval base within a year, the U.S. Department of Justice said in a statement.
Synonymous with the Bush administration's harsh anti-terror policy in the wake of the 9/11 attacks on the United States, Guantanamo has been mired in claims of prisoner abuse.
The British government appealed in August 2007 for the release and return of its legal citizens, but struck a deal last Friday to secure Mohamed's freedom.
In a statement on his release, Mohamed reiterated his allegations of abuse at the hand of the United States and called for the release of other detainees.
"I have been through an experience that I never thought to encounter in my darkest nightmares," he said. "Before this ordeal, 'torture' was an abstract word to me. I could never have imagined that I would be its victim."
He added: "I am not asking for vengeance; only that the truth should be made known, so that nobody in the future should have to endure what I have endured."
Foreign Secretary David Miliband has said there was no guarantee former London resident Mohamed would be allowed to take up residency in the UK.
E-mail to a friend