MADRID, Spain (CNN) -- Spain's best-known investigating magistrate, Judge Baltasar Garzon, was rushed to a hospital in Madrid on Friday, where he remained under observation in the coronary unit, CNN partner station CNN+ reported.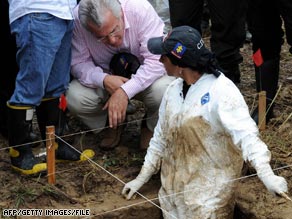 Garzon squats to speak to a police officer excavating a mass grave in Colombia in 2008.
Garzon issued a precedent-setting arrest warrant in 1998 for former Chilean dictator Augusto Pinochet for human rights abuses. He has recently been involved in a high-profile investigation of alleged corruption and influence peddling among officials of Spain's main opposition Popular Party.
Garzon left his office at the anti-terrorism National Court in central Madrid accompanied by aides and court medical personnel, and headed to a nearby hospital, CNN+ reported.
Hypertension was among the possible medical problems he was facing, but his life was not thought to be in danger, CNN+ reported. He may spend the night in hospital.
The judge has investigated human rights abuses in former military governments in Chile and Argentina, Islamic terrorists operating in Spain, the armed Basque separatist group ETA, as well as major drug traffickers.
Garzon is routinely protected by bodyguards and travels in armor-plated sedans.
E-mail to a friend

From CNN Madrid Bureau Chief Al Goodman