By Ivan Watson
CNN





ISTANBUL, Turkey (CNN) -- The once-untouchable Turkish military again took to defending itself on its Web site, announcing Thursday that "the Turkish military has no connections with illegal organizations or criminals."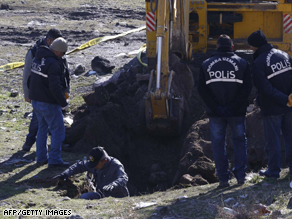 Police search for weapons during an investigation into an alleged plot to topple Turkey's government.
The statement was released after a former police chief accused Turkey's top army general of ordering him to create a secret counter-terrorism force charged with "cleaning out the interior of Turkey."
Ibrahim Sahin, a former officer in charge of police special operations, is one of scores of suspects accused of membership in a shadowy organization that plotted to overthrow the Turkish government. He made the charges against the Turkish military while testifying to a state prosecutor.
Among those arrested are businessmen, politicians, journalists and army officers. News reports have linked the group -- known as "Ergenekon" -- to a series of unsolved assassinations over the past 15 years.
The Ergenekon investigation has been under way since 2007. In prosecutors' first voluminous indictment, they charged suspects with plotting to attack a NATO base in Turkey, as one of a series of "bloody attacks aiming at creating serious crisis, chaos, anarchy, terrorism and instability."
Critics say the investigation is a political witch hunt. They accuse Turkey's observant Muslim prime minister, Recep Tayyip Erdogan, of targeting staunch secularists.
Prosecutors are preparing a second indictment that is expected to charge several army generals who were arrested last year with membership in Ergenekon.
E-mail to a friend

All About Turkey