LONDON, England (CNN) -- A British army officer has been arrested in Afghanistan for allegedly supplying sensitive civilian casualty figures to a human rights campaigner, a British newspaper reported Wednesday.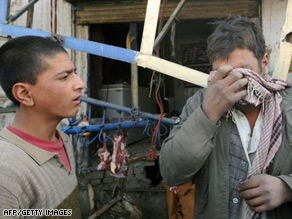 An Afghan man grieves in November during a disturbance sparked by international forces allegedly opening fire on a civilian car in Kabul.
The Ministry of Defence confirmed that an officer was being returned to Britain for questioning on suspicion of leaking state secrets. The investigation has been turned over to London's Metropolitan Police, the ministry said, without providing further details.
The Metropolitan Police said they were considering whether to pursue the case further.
Confirmation of the arrest follows a report in The Sun newspaper in Britain that a British lieutenant colonel is alleged to have leaked "highly sensitive civilian casualty figures" to a woman from a human rights group after the two became friends.
The paper named the officer but did not identify the woman or her organization.
The figures are controversial, The Sun reported, because critics question official estimates. The paper added that the U.S. military was angry over the reported leak.
Last year campaign group Human Rights Watch said civilian deaths in Afghanistan from U.S. and NATO airstrikes nearly tripled to at least 1,633 between 2006 and 2007.
The Sun said the officer had access to casualty figures while working for NATO's International Security Assistance Force.
If convicted of breaching the Official Secrets Act, the officer could face up to 14 years in prison, The Sun said.
E-mail to a friend

All About Afghanistan