LONDON, England (CNN) -- Questions were being asked Tuesday about how snow in Britain caused so much disruption to travel and education as analysts said the cost to the economy could be as much as £3.5 billion ($5 billion).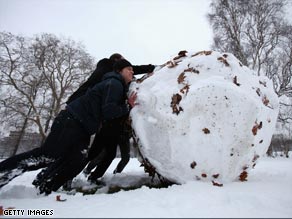 A group of men push a giant snowball across Kensington Gardens, west London.
London came to a near standstill on Monday with all buses canceled and overground and underground train services severely disrupted.
About one in five workers took the day off and thousands of schools in the south of England closed. Many stayed closed on Tuesday.
Many children were delighted to have two days off to play but many working parents had to take a day off work to look after children.
Margaret Morrissey, of the Parents Outloud campaign group, told the Press Association: "It is terribly difficult for parents. You've got to go to work and you've got the added problem of what to do with the children."
She warned that children might get the message that "when things get difficult you should just stay at home and have fun."
Stephen Alambritis, from the Federation of Small Businesses, said the economy could lose up to £3.5 billion this week as a result of the snow. "One of the world's biggest economies should not be grinding to a halt," he said.

Watch as snow hits economy »
David Frost, director-general of the British Chambers of Commerce, said the disruption had cost British business "a lot of money."
He said more planning for freak weather was needed, adding: "We shouldn't just buckle to it."
Britain was struggling to return to normal Tuesday, but forecasters predicted icy conditions and a continued freeze for several days to come.
Send your iReport videos, stories
All of London's airports were open and reported only a small number of cancellations Tuesday as the sun came out and started melting away the snow and ice.

See gallery of UK under snow »
British Airways reported that de-icing of planes, not snow, was causing some problems for its flights.
Express trains to Heathrow, Gatwick and Stansted airports in London were all running as normal Tuesday, airport operator BAA said.
Monday's snowfall affected a swathe of eastern Britain from north to south, but the worst-affected areas were London and parts of southeast England, Britain's Met Office weather service said.
The most snow was reported Monday in Epsom, southwest of London, with 31 centimeters (12.2 inches). London received 27 centimeters (10.6 inches), the Met office said.
Major roads in central London were largely clear of snow by Tuesday morning and side roads were gradually clearing as well.
London's buses, including the red double-deckers, returned to service Tuesday. London transport authorities pulled them from the streets Monday because of safety concerns.
It was an improved picture on the Underground subway system, also known as the Tube. Most of the 11 lines were running Tuesday, though two lines were partially suspended, and one, the Circle Line, was not running at all, according to Transport for London.
What started as a bleak picture for train travelers had improved greatly by midday. Network Rail, the owner and operator of Britain's rail system, said more than three-quarters of the network was open and running Tuesday after weather forced a shutdown on Monday.
"Network Rail staff worked exhaustively overnight to clear the rail infrastructure for train services," it said in a statement. "Staff concentrated their efforts and resources on the main routes, switching their efforts to branch lines today, with more of these secondary routes being reopened in the south east as the day progresses."
Train travel into London remained "difficult," Network Rail said, but commuter services were running on revised timetables.
The Eurostar high-speed train service between London and Paris reported some disruption to service Tuesday as a result of the heavy snow, but passengers were able to travel on other train services departing near the time of their original tickets, Eurostar said.

No snow was forecast for London on Tuesday. Some wintry showers with possible hail and snow were predicted for northern and western England, Scotland and Wales, the Met Office said.
Met Office forecaster Dave Britton said melting snow might freeze again Tuesday night and pose a further risk Wednesday morning.
E-mail to a friend