LONDON, England (CNN) -- The student protester who hurled a shoe at Chinese Premier Wen Jiabao as he was giving a speech at Cambridge University could face up to 6 months in prison or a £5,000 fine, the UK's Crown Prosecution Service told CNN Tuesday.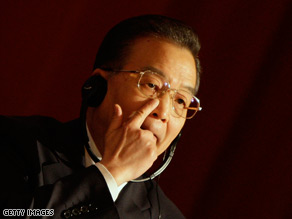 Chinese Premier Wen Jiabao was delivering a speech at the University of Cambridge.
The unidentified 27-year-old student has been charged with a "public order offense" and is expected to stand trial before a Cambridge Magistrates' Court on February 10, according to Cambridge police spokesman Emma Hardy.
According to a university spokesman and a student newspaper reporter who witnessed the incident Monday, the student hurled the shoe in the general direction of Wen and shouted, "Why are you prostituting yourself? How can you listen to the lies he is telling?"
The shoe was thrown toward the end of the speech and missed hitting the Chinese premier, according to eyewitness accounts.
Cameras filming the speech remained fixed on Wen during the incident, but video images later showed an unidentified student being escorted out of the building by a university proctor.
Don't Miss
The student was then handed over to police, a university spokesman, who would not disclose his name due to "university regulations," told CNN.
Monday's shoe-throwing incident echoed one in December, when an Iraqi journalist narrowly missed striking then-U.S. President George W. Bush during a news conference in Baghdad.
Lawyers for the Iraqi journalist, who is now detained, have asked the Iraqi Federal Court to change the case from assaulting Bush to insulting him.
If convicted of the former, he would face a maximum of 15 years in prison, an Iraqi lawyer told CNN.
E-mail to a friend

CNN's Per Nyberg and Bridget Fallon in London, Jomana Karadsheh in Baghdad, and Erin Mclaughlin in Atlanta contributed to this report