(CNN) -- A gay rights group is welcoming the likely appointment of the world's first openly gay prime minister, Johanna Sigurdardottir of Iceland.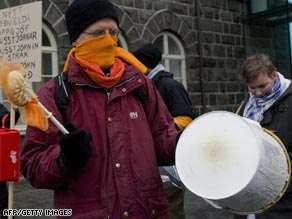 Protesters in Reykjavik celebrate the prime minister's resignation on Monday.
Sigurdardottir, the country's 66-year-old minister of social affairs and social security, is on track to succeed Prime Minister Geir Haarde, who resigned Monday following the collapse of the country's main banks, currency and stock market.
Negotiations are underway between Sigurardottir's Social Democratic Alliance Party and potential coalition partners. If they succeed, she will become interim prime minister until Iceland next goes to the polls, which must happen by May.
"We really warmly welcome that," said Gary Nunn, a spokesperson for Stonewall UK, a British gay-rights group. "At a time when we've just seen a black man elected to the highest office in America, it gives us hope that we will see an openly gay prime minister here some day."
"It really does matter. It is helpful" to have an openly gay prime minister, Nunn said. "We are trying to foster the ambition that young people can be anything they want to be."
Britain has only one openly lesbian member of Parliament, Angela Eagle of the Labour party, Nunn said. The United States currently has three openly gay members of Congress -- Democratic Reps. Tammy Baldwin of Wisconsin, Barney Frank of Massachusetts and Jared Polis of Colorado.
Stonewall considers it a higher priority to have significant numbers of openly gay lawmakers than an openly gay prime minister.
Don't Miss
"For a head of state of to be gay is great and really encouraging, but it's really important for Parliament to represent the people it serves," he said.
Sigurdardottir has been a member of Iceland's Parliament for 30 years, and is in her second stint as minister of social affairs.
She started her career as a flight attendant for the airline that became IcelandAir. She was active in the flight attendants' labor union during her 11 years with the airline, according to her official resume.
Sigurdardottir briefly led her own political party, which merged with other center-left parties to form the Alliance party.
She would become Iceland's first female prime minister, although not the North Atlantic nation's first female head of state -- Vigdis Finnbogadottir became its fourth president in 1980.
Sigurdardottir lists author and playwright Jonina Leosdottir, 54, as her spouse on her ministry Web site. She has two children from an earlier marriage.
E-mail to a friend

All About Iceland