By Al Goodman
CNN





MADRID, Spain (CNN) -- U.N. Secretary-General Ban Ki-moon was set to address an international meeting on combating hunger in Madrid on Tuesday, the first such event since the global financial crisis hit hard.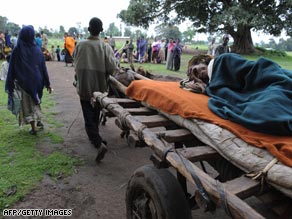 Bedatu, a woman suffering from malnutrition, is wheeled to a medical center in Kuyera, Ethiopia, in September.
"Food Security for All," the conference co-sponsored by the United Nations and Spain, aims to keep the battle against hunger a high priority even while governments and corporations are worried about money, Tim Wall, a U.N. spokesman, told CNN.
The conference looks for "a way forward for the elimination of hunger and on a comprehensive framework that links food security, agriculture, nutrition, social protection, markets and trade," a U.N. statement said.
The United Nations says 963 million people were "undernourished" in 2008, up 40 million from the year before. It means nearly one in six people on the planet have a daily struggle to get enough to eat, and many are children.
The United Nations already was seeing a decline in private investment in food programs and a slowdown in the delivery of publicly-committed funds, like the $1 billion pledged at a big international food conference in Rome last June.
"It's not that the food crisis is over. The financial crisis is going to make it more difficult for the agricultural sector to grow," said Sam Bickersteth of Oxfam, the non-governmental agency that fights poverty.
Global food prices were at a record high last June when the U.N.-organized summit was held in Rome. The prices have since dropped to levels of almost two years ago globally, but Ethiopia, Afghanistan, Zimbabwe and numerous other nations still have severe food shortages and soaring prices, said Bickersteth.
The Madrid conference, with 57 agricultural ministers and numerous international organizations and non-governmental relief organizations, concludes on Tuesday, just as the annual economic forum in Davos, Switzerland, begins.
"I think the participants in Davos will pay attention," said UNICEF executive director Ann Veneman, who was in Madrid on Monday but planned to go to Davos later in the week.
"As you look at the overall impact of the financial crisis, you can't help but look at the vulnerabilities of those who are most impacted, at the bottom, in the poorest levels of the world," Veneman, a former U.S. Secretary of Agriculture, told CNN.
"I just returned from Zimbabwe a week ago. We met people on the border in South Africa - young children, teenagers, and we asked them why they left and they said because 'we didn't have enough to eat,'" Veneman said.
"The majority of undernourished people live in developing countries, with about 65 percent living in India, China, Democratic Republic of Congo, Bangladesh, Indonesia, Pakistan and Ethiopia, the United Nations' Food and Agriculture Organization (FAO) said in a statement.
Yet soup kitchens offering free meals in Madrid -- not far from the conference site -- are also experiencing a sharp increase in patrons, as the financial crisis has hit Spain with more than 3 million people jobless, about 13 percent unemployment.
Spain is hosting the conference because Prime Minister Jose Luis Rodriguez Zapatero, who will also speak to the closing session on Tuesday, pledged last year at the Rome meeting "to go further" than just "fine words" and seek a "good strategic plan."
Spain has budgeted 500 million euros ($660 million) through 2012 for international efforts to fight hunger, a Spanish government statement said.
The meeting is expected to issue a non-binding "Madrid Declaration" on combating hunger. Although not the result of intergovernmental negotiations, it will reflect the status of global food security efforts and what more needs to be done, U.N. spokesman Wall said.
E-mail to a friend

All About United Nations