By CNN Madrid Bureau Chief Al Goodman





MADRID, Spain (CNN) -- Spain will send up to 395 troops to combat piracy off the coast of Somalia as part of a European Union task force, the Spanish Parliament agreed on Wednesday.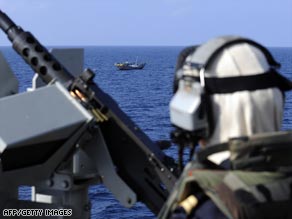 A soldier looks at a Yemeni fishing boat from a French frigate. Spanish troops are due to join the EU task force.
The near-unanimous parliamentary vote authorizing the troop deployment came after a Spanish tuna fishing boat was seized last spring by Somali pirates and later released, after a reported payment of ransom.
Last November, a Spanish press photographer was kidnapped in Somalia, while working on a story about piracy. He was released two weeks ago.
Spanish Defense Minister Carme Chacon told parliament before the vote that the fight against piracy "is of vital importance for the defense of the geostrategic and economic interests of Spain, and will provide security to our fishing fleet," according to a defense ministry statement.
Spain already has a P-3 maritime surveillance plane with 70 troops at a French air base in Djibouti, just north of Somalia, and those assets will now go toward the EU task force against piracy, involving various EU nations.

In addition, Spain will send a frigate with a helicopter and 196 troops, and later a supply ship with a helicopter and 118 more troops. Spain is due to take the rotating command of the EU task force next April, when Spanish fishing boats work off of Somalia, the ministry statement said.
The cost to Spain's treasury will be €3.7 million to €5.1 million ($4.7 million to $6.5 million) per month, depending on the assets deployed.
E-mail to a friend

All About Gulf of Aden • Somalia