MOSCOW, Russia (CNN) -- Russian energy giant Gazprom resumed pumping natural gas to Europe via Ukraine Tuesday, nearly two weeks after the flow was cut off, a Gazprom spokesman told CNN.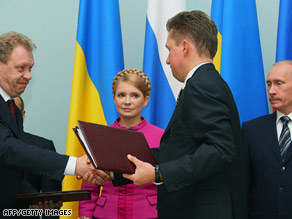 Naftogaz chief Oleg Dubina, left, and Gazprom CEO Alexey Miller reach a deal in Moscow Monday.
Ukraine's state-run gas company Naftogaz also confirmed the taps had been turned back on.
The gas through Ukraine will reach European consumers before the end of the day, Ukrainian President Viktor Yushchenko said, according to comments posted on his official Web site.
The problems began as a bilateral dispute between Russia and Ukraine over domestic gas shipments but grew to affect much of Europe when, on January 7, all Russian gas supplies through Ukraine were cut off.
Russia is a major supplier of natural gas to more than a dozen European countries, and Ukraine is a major transit country for that gas.
The two countries each blamed the other for the shut-off.
After back-and-forth diplomacy and at least one failed agreement, the two sides signed a 10-year-deal Monday to end their dispute and resume gas shipments to Europe.
Ukrainian Prime Minister Yulia Tymoshenko called the five hours of negotiations to reach the deal "difficult."
Tymoshenko and Russian Prime Minister Vladimir Putin said they hoped the gas crisis would never be repeated, and they pledged to do everything possible to make sure Europeans started getting gas as quickly as possible.
Putin said the new agreement would "provide long-term, stable and reliable gas deliveries."
"Let us hope that Ukraine will fulfill its transit obligations fully, 100 percent," Gazprom chief executive Alexey Miller told Russian President Dmitry Medvedev on Tuesday.
The European Union had expressed frustration as the impasse dragged on and warned Russia and Ukraine that the problems called into question their reliability as energy partners. And the problems caused many countries to reexamine their sources of energy and dependence -- in some cases total -- on Russia as a provider.

Gazprom spokesman Sergei Kuprianov sought to play down those concerns after the gas flow resumed Tuesday. "We at Gazprom are keen to preserve our reputation as a reliable supplier," he said in a statement.
"We are sure that everyone will draw the right conclusions from this deplorable situation and that it will encourage the minimization of transit risks, and also will spur the diversification of supply routes of natural gas to European customers from Russia, which remains the main and trustworthy blue fuel supplier for Europe."
E-mail to a friend

All About OAO Gazprom • Ukraine • Russia