(CNN) -- Russia's Gazprom planned to resume gas supplies to Europe Tuesday, with lines to be reopened by 7 a.m. GMT (2 a.m. ET), Russian media quoted a Gazprom official as saying.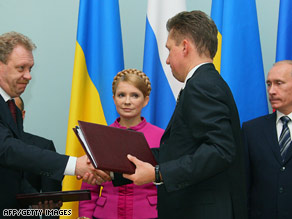 Naftogaz chief Oleg Dubina, left, and Gazprom CEO Alexey Miller reach a deal in Moscow Monday.
The heads of Russia's Gazprom and Ukraine's Naftogaz signed a new deal Monday to end a long, bitter dispute that has left many European countries running short of fuel during a frigid winter.
Russian gas could take 24 hours or more to reach Europe via Ukraine's pipeline system due to the large distance the gas needs to travel, experts say.
The agreement came after meetings between the two countries' prime ministers Sunday and Monday, negotiations Ukrainian Prime Minister Yulia Tymoshenko described as "difficult."
Russian Prime Minister Vladimir Putin said the 10-year agreement would "provide long-term, stable and reliable gas deliveries."
Both said they hoped the gas crisis would never be repeated and pledged to do everything possible to make sure Europeans start getting gas as quickly as possible.
Russia is a major supplier of natural gas to a dozen or more countries in Europe, with much of the supply moving through pipelines across Ukraine.
But Ukraine and Russia locked horns at the end of last year over Ukraine's past payments for Russian gas and failed to agree on the terms for a new contract.
As a result, Russia turned off Ukraine's gas but promised the supply of gas to Europe through Ukraine would be unaffected.
Despite the guarantee, European supply was brought to a halt nearly two weeks ago, something each side blamed on the other.
The gas shutoff left millions in Europe suffering from shortages in heating and cooking gas during an unseasonably cold winter. Eastern Europe, in particular, is experiencing historic low temperatures this year.
An earlier European Union effort to broker a deal between Russian and Ukrainian gas companies failed to solve the problem. An agreement was signed and the EU agreed to send observers to monitor gas flow, but gas supplies did not resume.
The EU subsequently called the problem a bilateral one that Russia and Ukraine needed to resolve. The bloc has repeatedly said the longer the dispute drags out, the more damage it does to both nation's credibility and reliability as energy suppliers.
Under the deal reached Sunday, Russia will give Ukraine a 20 percent discount on the price it charges Europe for gas. In exchange, Ukraine will not hike the fees it charges Russia to transport gas onward to European countries.
Under the deal, Ukraine will pay $360 per 1,000 cubic meters of gas in 2009, and charge Russia a transit rate of $1.7 per 1,000 cubic meters per 100 kilometers that it had been paying in 2008. But starting from next year, both countries will switch to the full European market gas prices, both for gas purchases and the transit.

The countries that faced the most serious problems were those that import a majority of their gas from Russia.
Lithuania depends on Russia for 85 percent of its gas; Slovakia for 100 percent, and Bulgaria for 90 percent, according to figures compiled in 2006 by the European Council on Foreign Relations.
E-mail to a friend

CNN's Maxim Tkachenko and Michael Sefanov contributed to this report
All About OAO Gazprom • Ukraine • Russia