MOSCOW, Russia (CNN) -- Russia is hoping for wide participation at talks this weekend in Moscow to resolve a gas dispute that has left parts of Europe stuck in the cold, Russian Foreign Minister Sergei Lavrov said Friday.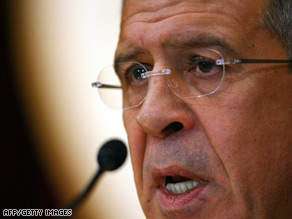 Russian Foreign Minister Sergei Lavrov calls for leaders to attend talks on the gas dispute this weekend in Moscow.
The Russian and Ukrainian governments are already planning to meet, but Lavrov said Russia also invited "all who are connected to the situation," including representatives of European Union members and other affected countries, including Serbia.
"We are counting on the fact that those who are interested in resolving this problem as soon as possible will arrive for the summit in Moscow," Lavrov told reporters. "We want to solve this problem. If no one is interested in that, we cannot compel them to come to Moscow."
Friday is the tenth day that Russian gas supplies through Ukraine have failed to reach Europe. Though Russian energy giant Gazprom and Ukraine's state-run gas company, Naftogaz, signed a deal this week to resolve the problem, the gas still isn't flowing.
The European Union is sending representatives to Moscow only if high-level representatives of both sides attend the meeting as promised, the EU said Thursday.

Watch how a simple price dispute led to the crisis »
The EU has called the problem a bilateral one that needs to be resolved by Russia and Ukraine. The bloc has repeatedly said the longer the dispute drags out, the more damage it does to both nation's credibility and reliability as energy suppliers.
"We're trying to solve a problem," Lavrov said. "Our president and prime minister from morning to night are engaged in this question."
Don't Miss

The problems began at the end of last year when Ukraine and Russia failed to resolve a dispute over Ukraine's past payments for Russian gas, and failed to agree on the terms for a new contract. As a result, Russia turned off Ukraine's gas while at the same time promising the supply to Europe would be unaffected.
Despite the guarantee, the European supply was brought to a halt January 7, something each side blamed on the other.
E-mail to a friend

All About OAO Gazprom • Ukraine • Russia