(CNN) -- The Czech Republic has apologized for a controversial art installation it commissioned to mark its six-month presidency of the European Union.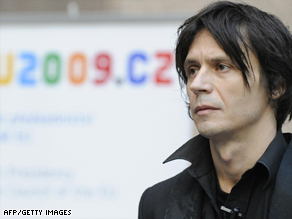 David Cerny attends the 'Entropa' exhibit with Czech Deputy Prime Minister Alexandr Vondra.
The work, "Entropa," frames various representations of each member state as components of a giant multimedia model kit.
With Bulgaria depicted as a Turkish toilet and Romania as a vampire theme-park, the work by Czech artist David Cerny has provoked an angry response from some member states.
Betina Joteva, spokesperson for Bulgaria's permanent representation to the EU, said in comments reported by EUObserver.com: "It [the work] is preposterous, a disgrace. It is a humiliation for the Bulgarian nation and an offence to [our] national dignity."

Look at images of European nations »
At the official unveiling of the work at the EU headquarters in Brussels Thursday, Alexandr Vondra, Czech Deputy Prime Minister for EU affairs, said: "Entropa is a provocation of a kind. I understand that some could feel offended and I would like to apologize to them. This does not just concern Bulgaria but any other member state.
"I would also like to apologize to all those whom I have unintentionally misled, among other media representatives and my colleagues from the Permanent Representation of the Czech Republic in Brussels. If Entropa was supposed to make fun of someone, that would be us, me in the first place."
Bulgaria is not the only nation to suffer an unflattering depiction. What do you think about images?
Germany is criss-crossed by a series of autobahns in what some critics say is a close approximation of a swastika; Spain is a giant construction site in a dig at its building boom; and Luxembourg is a gold covered nugget sporting a "For Sale" sign.
The Netherlands is depicted as a submerged land with only minarets peeking through the waves in an apparent reference to its religious tensions.
Poland recreates the WWII flag-raising at Iwo Jima, only with the U.S. Marines and the Stars and Stripes replaced with Catholic clergy brandishing the multi-colored gay pride flag.
The UK is absent from the work -- possibly because of its on-off relationship with the rest of the continent.
In a further embarrassment, the Czech government said in a statement on its presidency Web site Tuesday that the original brief was for the work to be created by 27 artists representing all EU Member States -- and that it was "unpleasantly surprised" to learn that this was not the case.
When we received the proposal for a joint project of 27 artists, we created the conditions for its realization," Vondra said Thursday in quotes carried on the presidency Web site. "The project which was then delivered by David Cerny included the names of 26 other artists, each of them being the creator of his or her own country.
"Part of the deal was that any other costs relating to production of the project would be covered by the artist himself or private funds he would find. Only after the Entropa had been installed here we learnt, much to our surprise and dismay, that the participation of 27 artists was in fact a piece of misinformation.
"It was an unpleasant shock for us although the conceptual artist DC later apologize to the government and informed us that we did not use the Czech tax payers' money appropriated for this project.
"It was an unpleasant shock for us," Vondra said Thursday, in speech carried. although the conceptual artist DC later apologize to the government and informed us that we did not use the Czech tax payers' money appropriated for this project.
Cerny is no stranger to controversy. In 1991 he was arrested after painting pink a Soviet tank that served as a Prague war memorial.
His Web site shows other examples of his work, including previous kit-style installations entitled "Jesus Christ" and "Dead Raped Woman"; and a life-size bronze fountain that depicts two men standing opposite each other, urinating.

Cerny, and his main collaborators Kristof Kintera and Tomas Pospiszyl apologized to Czech Prime Minister Mirek Topolanek and other government ministers Tuesday, according to a statement on the artist's Web site, for " not having informed them about what is true and for having misled them."
The statement adds that Cerny and his colleagues initially wanted to use 27 European artists for "Entropa", but fell short due to lack of time and money. Instead, they say, they decided to create fictional artists, some of whom have even been given their own Web sites.
E-mail to a friend

All About Czech Politics • European Union