LONDON, England (CNN) -- The classic English bulldog, a symbol of defiance and pugnacity often likened to wartime leader Winston Churchill, is set to breathe a little easier under revised breed standards issued in Britain.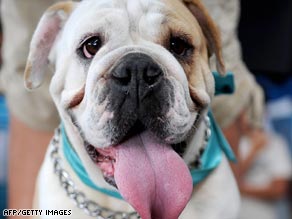 English bulldogs are a symbol of the country's defiance and pugnacity.
The Kennel Club, the country's 135-year-old governing body for dogs, says generations of breeders have exaggerated the animal's large jowly face, stubby legs and big shoulders, making it hard for them to breathe, walk, and breed.
The club hopes revisions to the bulldog standards will make the dogs healthier without drastically changing their classic look.
"The character of the bulldog certainly isn't going to change," said Caroline Kisko, spokeswoman for the Kennel Club. "They will still be the steadfast, strong-willed and gay-tempered dog that they are now."
The bulldog isn't the only breed that will benefit from revised standards. The Kennel Club is revising standards for a total of 78 breeds "to ensure that all dogs are healthy, of good temperament and fit for their original function."
"The things that worry us most are anything which stops a dog from breathing, walking or moving freely," Kisko said.

Watch how jowly hounds have come in for scrutiny »
Other breeds affected include the shar pei and German shepherd.
Kennel clubs outside Britain, such as the American Kennel Club, are not affected. They have their own rules for breeding and shows.
Britain's Kennel Club is under pressure to change its breed standards since a recent BBC documentary accusing breeders of endangering dogs' health in order to achieve prize-winning features.
The upturned muzzles of English Bulldogs are blamed for respiratory problems. Their narrow hips and large heads make natural birth almost impossible, and to breed, many have to be artificially inseminated.
The new bulldog guidelines declare the bulldog's classic over-nose wrinkle "must never adversely affect or obscure eyes or nose," and that a heavy over-nose wrinkle is "unacceptable and should be heavily penalized."
Previous guidelines that said a bulldog's legs should not be so short that they "cripple him" have now been changed to say the short legs should not detract from his activity. And the previous standard that a bulldog's gait should be "peculiarly heavy and constrained" now says he should walk with "short, quick steps" on the tips of his toes.
Some bulldog breeders insist the breed is perfectly healthy as is and that changes aren't necessary.

"The reports that they get are only from vets, and vets only see sick bulldogs," said Kevin Davis, a bulldog breeder in King's Lynn, England. "There's many -- loads of bulldogs walking around without any health problems at all."
Other bulldog owners say that while it's a shame to see classic features change or even disappear, it will be nice to see healthier dogs.
E-mail to a friend

CNN's Atika Shubert contributed to this report