LONDON, England (CNN) -- Farmers have warned that the cost of food could rise after the European Parliament voted to restrict the use of many pesticides on crops.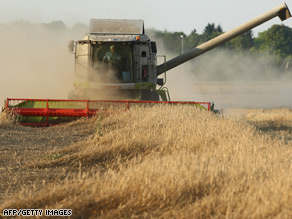 Farmers say the restrictions could reduce yields.
MEPs voted to change the way pesticides are cleared for use amid an EU drive to halve the use of toxic products in farming by 2013.
But the plans were attacked by Britain's National Farmers' Union, saying they threatened yields of crops such as carrots, potatoes and cereals.
NFU deputy president Meurig Raymond said: "It is worth remembering that pesticides are already one of the most heavily regulated groups of chemicals in the EU. I remain very worried that these further restrictions could lead to reductions in crop yields and quality and a rise in food prices for household staples like potatoes and broccoli."
Raymond said EU ministers were likely to push through the plan despite UK government opposition. "Our task now is to make certain that this legislation is implemented in a practical manner that doesn't make our agriculture and horticulture uncompetitive." he added.
British Liberal Democrat MEP Chris Davies, who voted for the tougher rules, said the measure would encourage chemical manufacturers to develop safer ways of protecting crops.
It was time to stop treating the world "like a giant chemistry set", he said.
He accused opponents of the move of ignoring the long-term dangers, adding: "Pesticides and herbicides play a hugely important role in maintaining high quality agricultural production, but we should not be using products that pose a threat to human health or the environment.
"This new law will stimulate research and the development of safer alternatives that simply would not happen if no controls were introduced. We can have both high quality peas and better protection."
E-mail to a friend