By Tricia Escobedo
CNN





(CNN) -- Rob Gauntlett's life was cut short at the age of 21 during a mountain expedition in France last weekend, but the young Briton is being remembered as a legend by his colleagues and friends.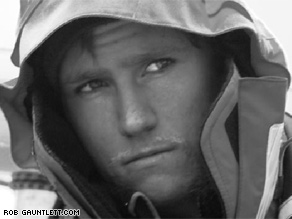 Rob Gauntlett, who finished a 26,000-mile journey between the earth's poles last year, died last weekend.
"Every time I wake up, or do something that [takes] me a long time, or messed up my body, I think of Rob and say, 'Oh come on, this is nothing,' " Diego Gonzalez Joven told CNN. "He could have probably walked around the moon 20 times solo and he would have had the same impact on everyone. ...
"He has done so much more than many people have done in many lifetimes."
Gauntlett became the youngest Briton to summit Mount Everest -- the world's highest peak -- in 2006, just days after his 19th birthday. He accomplished that feat along with James Hooper, his friend and former classmate.
Gauntlett died in a climbing accident along with fellow mountaineer James Atkinson in the French Alps, the British Foreign Office confirmed Sunday. Both were 21.
Their bodies were found by another group of climbers on Saturday in the Mont Blanc area, according to British media reports. It is unclear exactly how they died.
Hooper was on the same expedition in the French Alps, but told the British media he decided not to take the same route because he "didn't like the look of the weather."
Don't Miss
Gonzalez, 26, trekked through sandstorms and dodged traffic with Gauntlett and James Hooper during part of their 26,000-mile journey from one of Earth's magnetic poles to the other.
National Geographic Adventure magazine awarded Gauntlett and Hooper the 2008 Adventurers of the Year award for that feat, in which they used only skis, sleds, sails and bicycles. The magazine described the pole-to-pole expedition, which began in March 2007 and ended in April 2008, as "the most madcap adventure we saw all year."
Fellow British adventurer Ben Saunders posted the news of Gauntlett's death on his blog, which prompted several responses.
"I met Rob at a charity event in London late last year and was struck by how personable and self-effacing he was," wrote Saunders, who holds the record for the longest solo Arctic journey by a Briton, according to his Web site. "His passing has come as a huge shock."
"Rob did a talk at my school not too long ago and I can't believe he's now gone," wrote Jessica Strickson.
"I live at the school Rob went to as my dad is a teacher here and Rob is known as a legend around the place," according to a post by a person identified only as James.
"An inspiration," he wrote.
Gonzalez said during the seven months he spent with the two British adventurers on their journey to the South Pole, Gauntlett was "the pack leader" who rose at the crack of dawn and had everything organized before the rest of the team woke.
He recalled a bicycle trek through the Atacama Desert in northern Chile, during a sandstorm:
"The sand would hit you so hard on your cheek, you would have to cycle with one eye open," Gonzalez said. "[Rob] would never never stop. It was such a rush. We would camp and he would be the first one up. He would set up the table, have breakfast ready, everything.
"You would hear the pots and pans making sounds and that was pretty much the alarm."
Gauntlett would always handle the massive amount of paperwork required when the team crossed international borders, Gonzalez recalled.
"One time I remember we crossed [into] El Salvador from Guatamala. He had a gastrointestinal infection. ... He was pale and sweaty and but he kept cycling," Gonzalez said. "Everyone would tell him, 'You should take a break.' "
Gonzalez spoke to CNN from Mexico City, where he just finished a bicycle trip from Austin, Texas, with his blind roommate. His next adventure is a 600-mile swim from Veracruz, Mexico, to Key West, Florida.
Asked if Gauntlett's death gave him any pause, Gonzalez said he took more inspiration from the way Gauntlett lived his life.
"By just listening to him ... he would say, 'Man, I hope I can make an impact on this world' ... and I guess that God has decided there are some some tougher mountains in heaven and he took him to try them out."
E-mail to a friend

All About French Alps • Mount Everest