LONDON, England (CNN) -- Rob Gauntlett, the youngest Briton to summit Mount Everest, died in a climbing accident along with another mountaineer in the French Alps, the British Foreign Office confirmed Sunday. Both were 21.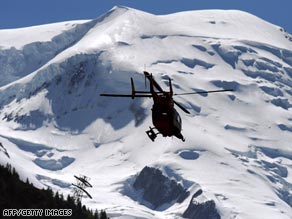 France's highest peak, Mont Blanc, in the French Alps' Chamonix valley.
The bodies of Gauntlett and James Atkinson were found Saturday in the Mont Blanc area. Weather conditions were reported to have been clear and cold in Chamonix at the time.
Gauntlett scaled Mount Everest, the world's highest peak, in 2006 just days after his 19th birthday, along with 19-year-old James Hooper, his Web site says. He shattered the previous British record set by Bear Grylls at the age of 23.
Last month, National Geographic Adventure magazine declared Gauntlett and Hooper "adventurers of the year" for their 26,000-mile journey from one of Earth's magnetic poles to the other using only skis, sleds, sails and bicycles.
Hooper, who was on the trip where Gauntlett was killed, described the adventurer as "practically a brother to me," Britain's Press Association reported.
"He really pushed himself as hard as he could," he said. "It was only because he was such a motivated and driven person that the accident happened, but those were the qualities that made him so incredible."
Hooper did not say how the accident occurred.
Gauntlett cycled Britain from south to north at the age of 15 and decided soon after with Hooper to scale Everest, his Web site says.
He had made regular climbing trips to Scotland and the Alps to prepare for his 2006 Everest expedition.
But it was Hooper and Gauntlett's 396-day pole-to-pole odyssey in 2008 that National Geographic Adventure magazine called "the most madcap adventure we saw all year."
Gauntlett said on his Web site that completing the journey was his proudest moment.
"We had spent three months on a 60-foot yacht sailing across the world's most brutal ocean. A year before I had done virtually no proper sailing, so to be thrown in at the very deep end was a little scary at times," he admitted.
The timing of the completion of the trip was a lucky coincidence, he wrote.
"The cunning truth is that my 21st birthday was the day after our arrival so I could celebrate in normal conditions after the two previous years were spent in a tent," he wrote.
The two youths were fresh out of prep school -- the equivalent of high school -- and had no special training for their epic trek.
It included an 11,000-mile bicycle ride from New York to the southern tip of South America, sandwiched between a ski-and-dogsled and sea journey in the Arctic and a second sea voyage in the Antarctic.
Gauntlett was nearly killed on that trip when he crashed through Arctic ice in search of a lost glove. Hooper pulled him out of the freezing water, unconscious.
He was medevacked to a hospital in Greenland, where, Hooper recalled for National Geographic, he broached the idea of aborting the trip.
"Rob told me to p*** off, we were definitely carrying on," Hooper told the magazine.
E-mail to a friend

All About French Alps • Mount Everest