MOSCOW, Russia (CNN) -- Just as millions of Europeans struggling through cold winter temperatures thought a resolution had been reached in the Russia-Ukraine natural gas standoff, Russia said it will not proceed on a deal.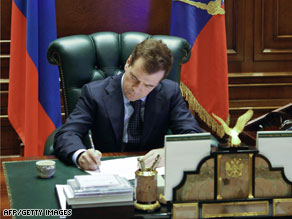 Russian President Dmitry Medvedev said an EU-brokered gas deal is "null and void."
Russian President Dmitry Medvedev told his government Sunday not to follow the agreement, saying the Ukrainian side made modifications not discussed with Russia. Russia believes those changes distort the essence of the agreement brokered by the European Union.
In a statement carried on Russian state-run TV, Medvedev complained about two clauses that Ukraine had added to the document. "These clauses and annexes are a mockery of common sense and an offense against the agreements that were reached earlier," he said.
CNN was attempting to reach Ukrainian officials for comment.
With millions in the region struggling through cold winter temperatures, pressure for a resolution has increased every day.

Watch what led to the breakdown in the deal »
Czech Prime Minister Mirek Topolanek, whose country holds the rotating European Union presidency, had traveled to the region to broker a deal. Ukraine signed it early Sunday.
Earlier, both sides had said they have taken steps to resume flow. Ukraine's state-run gas company Naftogaz told CNN it has dispatched a team of independent investigators to monitor the flow of gas.
Russia's national gas supplier, Gazprom, said its monitors were standing by, awaiting verification that Ukraine had signed the protocol that set up a mechanism to control the transmission.
Gazprom said it would turn the gas back on once all parties were in place.
The monitors were needed to ensure that Russian gas continues to flow through Ukraine, as it should under international transit agreements.
Both Naftogaz and Gazprom accused the other of shutting off the supply, and monitors would help stop any more potential finger-pointing.
The gas supply was cut off this week amid an ongoing dispute between the two gas suppliers over unpaid bills and the price of a new contract.

Gazprom shut off Ukraine's domestic supply of gas January 1 and on January 7 shut off all of its gas transit to Europe, accusing Ukraine of illegally siphoning off those gas exports.
About a quarter of Europe's gas supplies come from Gazprom. The shutoff left millions of European customers at risk of gas shortages amid freezing winter temperatures.
E-mail to a friend

All About OAO Gazprom • Ukraine • Russia