MOSCOW, Russia (CNN) -- Russia and the European Union have agreed on a protocol on setting up a mechanism to control the transmission of natural gas through Ukraine to Europe, the Russian news agency Interfax reported Saturday.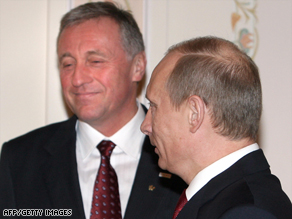 Russian Prime Minister Vladimir Putin (right) with Prime Minister of the Czech Republic Mirek Topolanek.
The document was signed following meetings in Moscow between Russian leaders and Czech Prime Minister Mirek Topolanek, whose country holds the rotating European Union presidency. Talks were aimed at resolving the natural gas dispute with Ukraine.
Earlier Saturday, Russian Prime Minister Vladimir Putin said after meeting with Topolanek that he still sought to settle the situation, but Ukraine was still in the way.
"Despite the fact that European institutions and you personally are making efforts to resolve the crisis, Ukraine has further aggravated it," Putin said in comments carried on Russian TV channel RTR.
"Nevertheless, we will be seeking to settle the situation. I hope you will manage to persuade our Ukrainian partners of the need to set up a mechanism to control the flow of gas."
The sides were trying to work out the makeup of delegations to monitor the flow of natural gas from Russia through Ukraine and on to Europe. The gas supply was cut off this week amid the ongoing dispute between Russia's Gazprom and the Ukrainian state-run gas company Naftogaz.

Watch more about attempts to get gas flowing again »
Topolanek, whose country holds the rotating EU presidency, was in Ukraine on Friday to discuss the issue of monitors.
Ukrainian President Viktor Yushchenko said Russian experts may join the international monitoring group in his country, the European Union said late Friday. Topolanek also discussed with Russian officials whether Ukrainian monitors could join the delegation in Russia. iReporter shivers in Ukraine
The monitors are needed to ensure that Russian gas continues to flow through Ukraine, as it should under international transit agreements. Both Naftogaz and Gazprom accused the other of shutting off the supply, and monitors would help stop any more potential finger-pointing.

The gas shutoff resulted from a dispute over Russian gas supplies for Ukraine. The two energy companies are locked in a disagreement over unpaid bills and the price of a new contract.
Gazprom shut off Ukraine's domestic supply of gas January 1 amid the accusations.
E-mail to a friend

-- CNN's Arkady Irshenko contributed to this report.
All About OAO Gazprom • Ukraine • Russia