LONDON, England (CNN) -- The global economic crisis could lead to a growth in terrorism, the head of Britain's internal security service says.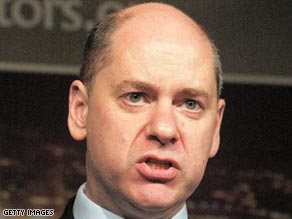 British security service chief Jonathan Evans says the global downturn could lead to more violence.
In the first newspaper interviews by a serving MI5 director general, Jonathan Evans warns that the credit crunch could be a "watershed" moment.
"Our focus in the next few years will be international terrorism, al Qaeda and its associates, but we are also looking at the global economic crisis," he told Britain's Daily Telegraph.
"Where there have been watershed moments, there have often been national security implications from that -- a new alignment.
"We have to maintain flexibility and respond to threats. The world will not stay the same."
Evans told the Daily Telegraph it was important to consider what would happen if the "West becomes less economically dominant."
"As the world develops there is a knock-on effect in terms of domestic extremism, global power and the relationship between states," he said.
Don't Miss
"National security tends to be a spin-off issue from wider changes... there is no single path that leads people to violent extremism. Social, foreign policy, economic and personal factors all lead people to throw their lot in with extremists."
Evans said Al Qaeda remained a threat to Britain but there was some good news -- the top spy telling The Guardian newspaper that recent high profile arrests and court cases in the UK had "chilled" other extremists.
However, he told The Guardian groups continued to push for new attacks.
"There is a significant number of individuals in active sympathy. They are doing things like fund raising, helping people to travel to Afghanistan, Pakistan and Somalia."
He revealed that the terrorists who launched the Mumbai attacks in November had indirect links to Britain and stressed the importance of the situation in Pakistan and Afghanistan.
E-mail to a friend