MOSCOW, Russia (CNN) -- Ukraine has sent a delegation to meet European leaders a day after Russian energy giant Gazprom cut its gas supply and as fears mount the rest of the continent could be affected.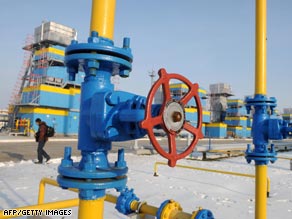 A gas-compressor and gas-holder station in Mryn, Ukraine. Gazprom has stopped supplying the country.
The delegation left after Gazprom chief executive Alexey Miller upped the ante by saying Ukraine would pay the full market price of $418 dollars per 1,000 cubic meter.
Miller said Ukraine had turned down Gazprom's offer of $250 per 1,000 cubic meters. Ukraine, which currently pays about $179.50 per 1,000 cubic meters, said it couldn't afford to pay the new price.
Gazprom shut off Ukraine's gas supply on Thursday after saying it owed $2 billion in missed payments.
Ukraine denies owing the money and is currently meeting its domestic needs with supplies from storage facilities.
Gazprom has reassured Europe that its natural gas supply, which runs through Ukraine, will not be affected by the dispute with Kiev.
However, analysts are concerned that if the two sides do not reach a new agreement there will be a supply cut.
Ukraine's Fuel and Energy Minister Yuri Prodan, the delegation's head, was first stopping in the Czech Republic, the current holder of the EU's presidency, Russia ITAR-TASS news agency reported.
Prodan was to discuss the security of European gas supplies, according to reports.
Meanwhile, ITAR-TASS reported there had been no drop off in the amount of gas being supplied to Europe.
European Commission spokeswoman Christina Hofmann told the agency Ukraine had not been siphoning gas.
"If Kiev started the confiscation of the Russian export gas intended for the European Union... the EU countries would have experienced the reduction of gas volume by the midday of Friday," she said.
Hofmann said EU leaders were keeping in touch with Ukraine and Gazprom and urged them to settle the dispute.

Watch a report on Gazprom's threats to cut off gas supplies to Ukraine »
In Washington, the White House also urged a resolution.
"The United States would like to see a restoration of normal deliveries," White House spokesman Gordon Johndroe said. "The parties should be resolving their differences through good-faith negotiations, without supply cutoffs."
It is the second time in three years Gazprom has cut off gas supplies to Ukraine. The company made good on its threat on January 1, 2006, but turned the supply back on a day later.
Russia is the world's biggest producer of natural gas and supplies Europe with more than 40 percent of its imports -- mainly via the pipelines through Ukraine.
E-mail to a friend

All About OAO Gazprom • Ukraine • Russia