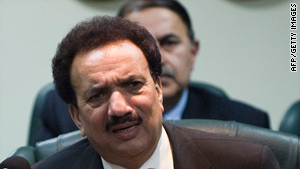 Rehman Malik says he does not mind the opportunity to clear his name.
STORY HIGHLIGHTS
Pakistan's interior minister says he and others facing corruption charges are victims of politically motivated opponents
Court in Karachi has summoned Rehman Malik to appear in January over outstanding corruption case
Pakistan is facing internal political discontent as it deals with thousands of cases of alleged corruption
Situation came to a head on Thursday when defense minister was blocked from leaving Pakistan
Islamabad, Pakistan (CNN) -- Pakistan's interior minister has defiantly characterized himself and other politicians facing corruption charges as victims of politically motivated opponents, in an interview with CNN.
Rehman Malik said he does not fear his day in court because he has done nothing wrong.
"The allegations are false, therefore, I'm not worried at all," Malik told CNN's Arwa Damon in an interview Saturday. "We think that it's good that we go through that process and clear our names, though our names are already clear."
Malik is among thousands of bureaucrats and politicians who were granted amnesty by the now-nullified National Reconciliation Ordinance, which saved them from having to face corruption charges.
No longer protected by the order, Malik must appear in court, but he said he doesn't mind the opportunity to clear his name.
A court in Karachi summoned Malik to appear on January 8, 2010 regarding an outstanding corruption case against him, his attorney Khawaja Naveed Ahmed said earlier. Ahmed added that 51 others had also been summoned to court in Karachi.
But Malik vowed that neither the case, nor criticism from opponents, will distract him from fulfilling his duties.
"I have become even more aggressive in my work," he said. "I have given the commitment to my nation that we will flush out the Taliban."
The Pakistani army is conducting an intense operation to rout militants from their haven along the country's border with Afghanistan. Pakistan is also facing internal political discontent as it deals with the more than 8,000 cases of alleged corruption.
The situation came to a head on Thursday when Pakistani Defense Minister Chaudhry Ahmed Mukhtar was blocked from leaving the country for an official trip to China because immigration authorities told him he was on an Exit Control List.
The list prevented some government officials facing corruption charges from leaving the country.
It came into play after Pakistan's Supreme Court struck down the amnesty. The names of 53 people were restored to the Exit Control List following the ruling, said National Accountability Bureau spokesman Ghazni Khan.
The bureau also announced on Friday that Mukhtar was not actually on the list.
The confusion appears to have stemmed from the age of the list, which dates back several years.
When the amnesty was in force, those on the control list could travel.
The 17-judge court ruled that the amnesty "seems to be against the national interest" and "violates various provisions of the Constitution."
Many Pakistanis viewed the ordinance as protecting the elite at the expense of the poor, and local media largely hailed the decision, saying it was long awaited accountability and justice.
But Malik said the amnesty was fair.
"This was basically an agreement between all the political leadership that any politically victimized person should be given a leave immediately so we can get all the political leadership in Pakistan to take part in election," he said.
He rejected as propaganda criticism of the ruling Pakistan Peoples Party and calls for President Asif Ali Zardari to step down.
"Allegations are always there, allegations are on our judiciary. Allegations are on our leadership," he said. "Well, fine. If the Supreme Court wants us to go [a] second time to the court, yes, we'll go, we'll clear it. But until proven guilty, nobody can say they are the right charges."
Malik said the president cannot be pressured to resign until he is convicted of a crime.
Zardari and his wife, assassinated former Prime Minister Benazir Bhutto, were protected by the earlier order, which covered alleged wrongdoing between 1986 and 1999. Also on the list were bureaucrats, bankers, retired military officials, and low-ranking government officials.
At least one political analyst said, however, that Zardari's unraveling has begun.
"Generally the feeling is that he would serve the country, the people, the party if he would step down," said Nassem Zehra.
Although he was never convicted, Zardari spent 11 years in jail over corruption allegations.